Graham Reid | | 1 min read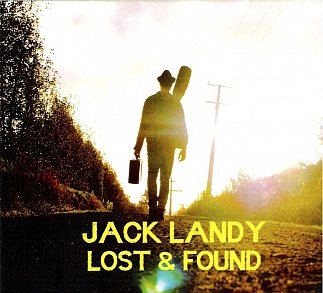 If we were allowed to use big words like "peripatetic" here at Elsewhere we'd certainly use it about world traveler, musical itinerant, busker and on-the-road singer-songwriter Landy, originally of Auckland to where he has now returned.
His bio says he's worked at sea, busked in Italy and Maseilles, and the opener here is Lost In Copenhagen (Later there are songs of farewells which suggests he lost people along the road).
We should take all that seriously, but not Tilting at Windmills which opens with "I'm 26 and I feel like retiring, I've done my time and I can't fight no more".
He sure sounds like he's still got a bit of muscle in him on these acoustic-driven songs which are embellished by piano, violin, backing vocals and his own work with harmonica, banjo, ukulele and drums.
So troubadour he may be, but this collection is finely honed, literary and on High Society ("conversation and laughter as full as their glasses") he nails down that early Seventies sound of the Peter Sarstedt/Al Stewart.
There is also an urgency about Ballad of a Young Man, a song of getting back on the road which is calling "and I told you I'd be on my way". You wonder how many that sentiment was written for. Nice line too in "places to go that I don't have to be" which encapsulates the free spirit of the slightly jaundiced narrator, an idea he picks up again in Lost and Found but with a rather different and more solitary perspective.
Landy also does a neat line in melancholy (Guy I Once I Knew) and is philosophical about those who are "standing at the dock awaiting your Peqoud".
Less successful is Ten Million Songs. Songs about writing songs always seem to forced to these ears and that is how these words ring; "if they never play my songs on the radio . . . I'd still write you 10 million if it made you happy".
And some might find there to be one too many songs about that free-spirit troubadour among the 13 here (Whiskey and Sour would play well in an Irish bar but scans uncomfortably in places).
But as someone standing between sea-flecked folk (Lullaby) and the man on the highway with his thumb out and a guitar on his back, Landy has delivered a debut album crammed with promise, subtle arrangements, some smart lyrics and more than a few very memorable songs.
I doubt he feels like retiring. He's just getting started.
Jack Landy's Lost and Found is available from iTunes here.