Graham Reid | | <1 min read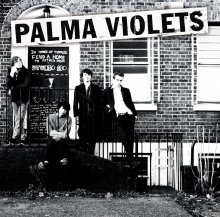 It's possible to enjoy and maybe even admire this English quartet (who pose cheerfully by Liverpool's Magical Mystery Tour bus on the inner sleeve) because of their energy, the bellicose single Best of Friends and their enthusiasm.
But over the 11 tracks here on their debut album you are left with the overall impression that while they sort of like the Clash and garagerock and all that, they really want to be band of grand gestures like Big Country or Simple Minds.
There's a bit of early Teardrop Explodes too, but at this distance comparisons with the Libertines seem a little stretched.
So a decent first outing but you would hardly accuse them of originality at this point, and would hope they don't take the publicity they are getting too seriously.
On the evidence here they are just another pretty good English rock band. But then so were Shed Seven and we all remember what happened to them.
You don't?
Maybe that's the point . . .