Graham Reid | | <1 min read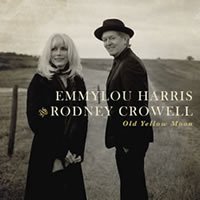 Two-part question to Emmylou and Rodney: What took you so long (they've been musical pals for almost four decades) and why songs – albeit good ones – mostly from back-catalogues?
Longtime fans of Harris – who rightly applauded her exceptional concert here last year – will embrace this and forgive her that throat-catch breathy vocal inflection (which becomes damn irritating after a while), and enjoy her version of the ballad Spanish Dancer.
But it's Crowell's burned-edge vocals and ability to inhabit a lyric (the careworn Open Season on My Heart with Harris in perfect synergy) where the real oil lies.
The broody low'n'sultry swing of Black Caffeine is kinda cool (although must have come easy for such seasoned friends) but attention here alights on slow songs where Crowell leads (Dreaming My Dreams impinged by Harris' vocal inflection) and less so the country-rockers.
Harris delivers on Matraca Berg's achingly wistful and nostalgic Back When We Were Beautiful and the title track is a polished rhinestone, but mostly this makes you yearn for a new Crowell album (and a new Emmylou if it isn't too polite).
Beautifully played, pleasant and professional stopgap only occasionally offering the best from either artist.
There is more about Emmylou Harris at Elsewhere starting here. And about Rodney Crowell starting here.