Graham Reid | | 1 min read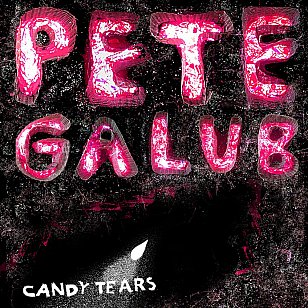 In a world where music is manicured to perfection, it's a pleasure for Elsewhere to introduce someone who didn't come into the game because they wanted to be on an Idol/X-Factor show . . . but because he saw the ramshackle Replacements when he was 14.
A more profound rock'n'roll influence it is hard to imagine.
Pete Galub is a New Yorker who has achieved some inner-city profile through work with the Annuals, Universal Thump, Last Town Chorus and others, and counts independent filmmaker Hal Hartley as a big fan. He is currently working on music for Hartley's next film My America.
This album (recorded by engineer Martin Bisi of Sonic Youth's Daydream Nation and Swans credentials) has Galub with his regular band of drummer Chris Moore and bassist Tom Gavin for songs which run the gamut from distorted and aggressive rock (the chiming, thumping and wall-rattling thrust of the swirling Reacquaintance, "I drank an ocean until I saw bottom") to the airy but weirdly claustrophobic 300 Days in July (which comes with wonderful guitar sparkles).
At core though is songcraft. Galub is a terrific guitarist (hear him twist a solo in Reaquaintance) but that is always in the service of the song and these nine pieces here -- with the exception of the seven minutes-plus Boat ("I gotta a bost but I don't wanna go anywhere") -- are tight constructions delivered with either desperation (the vice-like grip of My Regeneration) or sensitivity.
He wears his emotions openly and nails them in economic observations ("you never make up your mind but you've clearly made a decision" on All I Am). And on Plead the Fifth Dimension he briefly and deliberately walks in the shadow of Velvet Underground's achingly slow ballads before steadily picking up the intensity -- emotional and sonic -- for a look at the skewed emotional disengagement of his generation. It's a killer.
And that lengthy Boat at the end constantly morphs from downbeat ballad into something akin to a Popul Vuh soundscape. Good man for a soundtrack on the evidence of this one alone.
This is an album of guitar angles, repeat-play melodies, intelligently provoking lyrics and lots of attitude.
It might be a stretch and early days for the New York Music Daily to say already "we have a contender for album of the year" but this edgy, intense, intelligent and pleasingly unpolished (but well produced) outing is certainly commanding a large share of playing time round my way.
Pete Galub's Candy Tears is available from his bandcamp site here as a download where you can also get a sampling of his smart lyrics