Graham Reid | | <1 min read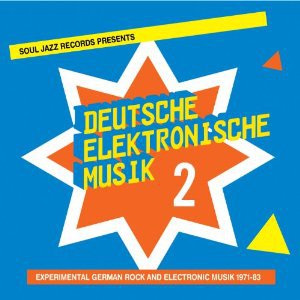 Following a previous, generously inclusive double CD collection of Seventies/Eighties German electronic music comes this compilation in an equally unimaginative and horrible cover.
It ticks off many main players (Can, Brian Eno with Moebius and Roedelius, the great Popol Vuh who did evocative soundtracks for Herzog, Amon Duul II with weaving guitar, and Faust).
But again we get those in the margins for anyone curious about radical Krautrock which so influenced current headline-grabber Bowie he relocated to Berlin for his crucial Low, Heroes and Lodger albums.
Kraftwerk aren't here (well represented in their own reissues anyway) but with Michael Rother, the always recommended Neu!, Pyrolator and Wolfgang Reichmann among others, this is a collection of when electronic artists took the wider view (North African sounds and ambient warmth alongside robotik rock).
What may surprise those expecting austere autobahn minimalism or Teutonic gloom is how airy, optimistic and pop-trippy some of this is: Roedelius' Jardin with bird song, Rother's bright Karussell, beat-driven bleep-pop from DAF, hippy-vibe folk from Gila . . .
Because young Germans couldn't look back to that uncomfortable recent past or to their politically-divided present they considered a seductively possible future where technological efficiency came with spirituality and a heartbeat.
Still possible?