Graham Reid | | 1 min read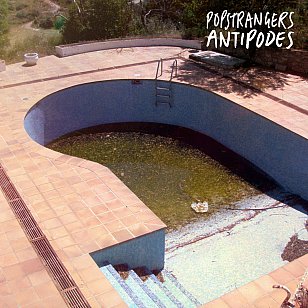 Because international writers can often take a more dispassionate view of New Zealand culture -- witness the difference between local and overseas reviews of The Hobbit; ours mostly loved it, theirs went hmmm, yawn -- it is often salutory to look at what the rest of the world is saying about our stuff.
If our default position is to be a little more generous then the yawn of indifference from overseas can remind us that our art -- of whatever persuasion -- has to compete with the best there is.
This debut album by Popstrangers -- a band picked up by Flying Nun locally but now on New York's Carpark -- has had a few mildly favourable reviews overseas (three stars in Mojo) but their caution is misplaced
This is a terrific album which bristles with visceral pop-rock songs, takes distortion and echo into the realm of art , rides along on enormous basslines from Adam Page and some stengun drumming by David Larson (when required).
Up front Joel Flyger's vocals cut straight through - just a little in the young David Kilgour territory and on the damaged alt.metal-psychedelics of the opener Jane like Darcy Clay. This album boasts a strong set of songs which explode with post-grunge noise (Cat's Eyes will draw inevitable comparisons with Nirvana/Butch Vig's quiet-loud attack) or throb with pure pop menace (Witches Hand).
Certainly there's a lurch towards Radiohead on the seven minute landscape of Occasion (they would have been at an impressionable age when OK Computer came out, remember) but the semi-classic single Heaven is still a standout for its economy (it's just 2.40) and its artfully deployed echo, and just about everywhere they sound equally sure-footed.
And curiously enough they also come off as transatlantic in that they stand somewhere between US and UK indie.rock . . . which makes sense when you think in New Zealand-- the antipodes of the title -- we get both in equal doses.
Add a star to whatever you read in overseas reviews (although I note one guy gave this nine out of 10 and that might be the upper limit) and you are in the zone.
For a debut album this is thrilling ride, and promises even better to come.