Graham Reid | | 2 min read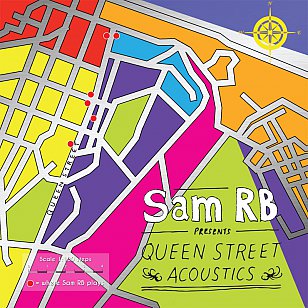 Auckland songwriter Sam RB has been met with some skepticism (if not outright cynicism) by many mainstream music writers on account of her song for the New Zealand Olympic Team (music journalists rarely like patriotic or cheerleading songs, regardless of quality, in my experience) and that her debut album came with assistance from a Mental Health Media Grant.
That said – with the exception of a couple of songs – that debut album of 2010 Seems I Must Be Human delivered more than enough to make you think that here was a real talent blooming.
These days she busks on Queen Street in central Auckland and I've not only seen here there pull a crowd but also observed how many copies of this album she is selling to people. When people give her the time they are captivated.
This new album is a real step up and comes with some high-hitter support including producer/guitarist Andrew Buckton, former Split Enz/Citizen Band man Mike Chunn, keyboard player Stephen Small (Verlaines), Eddie Rayner (Enz, many production jobs) and others.
Queen Street Acoustic adopts a more consistent tone than her debut – thoughtful acoustic folk, songs of intimacy and emotional uncertaintly which are also mature and often universal observations – and although she concedes there are issues of depression and mental health being dealt to, those few songs slide seamlessly into this delicate tapestry.
RB has a confident vocal style which is affecting in these ballads where she reveals a fragility which many could readily identify with.
On the memorable Lately she opens with the idea of isolation and lack of confidence (who doesn't feel that at some time, especially the young?) then sings "welcome to my world, I don't want to join your game, there's no dignity the way you play" as a slice of confident self-assertion. It also rides on some uplifting chords at exactly the right moment.
How Many Rains is sympathetic portrait of a woman reflecting on a child -- "the wind blew in her face, her hair a long and tangled mess, long gone her youthful grace" -- which is heartbreaking in its simple, honest delivery.
And that is perhaps her chief virtue. Her voice is pure and here given fine settings, but she also offers unadorned emotion, even when it seems to hurt as The Wind and The Rain about things never seen but resting easy with the world as it is.
So when on Black Dog she sings "I'd do anything to feel something, anything at all" you could read this as being about meds . . . but equally as a song about the loss felt when pure love has gone: "When you ask me how I feel I say that I'm okay, but is that what I'm supposed to say?"
When she sings of farewelling someone on No More -- "thanks for the apology, shame you didn't mean it . . . one day I just stopped listening to anything you said, now there's no more last chances left" -- she imbues the words with a sense of regret.
The subdued tone is rarely broken (right at the end is the slightly more strident Don't MInd) but this makes for a fine consistency.
Where her debut album contained some lyrical clunkers in the attempt to say so much, this one is the stronger for pulling back on the message and going more directly to the emotions.
You'd hope people in offices might give this one as fair a hearing as those on the street. It's a damn fine album.