Graham Reid | | <1 min read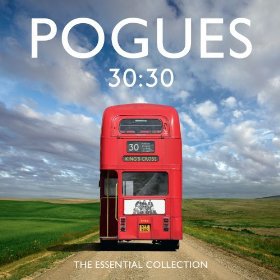 Few bands did bruised romanticism, battered beauty and boozy narratives as well as the Pogues.
In Shane MacGowan they had a songwriter who was a poet of the streets with his heart in some mythical vision of rural Ireland, a visionary who didn't disguise his ideas in florid language but kept his florid nose close to the blunt real world.
The Pogues may have been heroic drinkers but they were also equally heroic on stage when beauty would emerge from chaos, as it so often does.
Many of their songs -- Fairytale of New York, Dirty Old Town, A Pair of Brown Eyes, Summer in Siam, A Rainy Night in Soho among them -- are considered contemporary classics and theirs the definitive interpretations.
In the studio there was sometimes the tendency for the raw song to be swamped a bit by strings and overwrought arrangments, but this 30 song double disc colection scoops up a wide non-chronological swathe of Pogues music wich runs from the sentimental (A Pair of Brown Eyes) to the brutally raw (The Old Main Drag).
Here is urban music with its spirit on the ocean and swaggering to a sea shanty, an innercity sound that speaks of mountains and pure water somewhere.
And of course, Steams of Whiskey.