Graham Reid | | 1 min read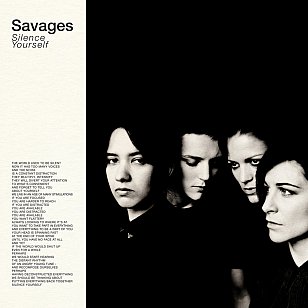 As often happens -- and we notice this with the advantage of distance -- the British music press sometimes works itself into a lather about some exciting new band. They seem to have over Savages who, undeniably, make some very exciting post-punk indie.rock all over this debut. It is disciplined, passionate, emotionally committed and . . .
And frankly it is 1982 revisited, specifically Sioux and the Banshees with some of the heroic tropes of Echo and the Bunnymen/Teardrop Explodes and the menace of Magazine at their most rowdy.
So I guess in their manifesto on the front cover they are at least keeping to their own code of conduct: "Perhaps when we have deconstructed everything we should be thinking about putting everything back together".
Seems they did, in rather the same order as it was in three decades ago.
To this however these women also add a powerful feminist muscularity and deliver a seriously threatening sonic punch which demands you play this loud to enjoy the sheer physicality of their sound.
They are apparently quite something to see, made their reputation live before the media hype started flying in earnest and are already being embraced by the art world for their cultural connects.
It'll be interesting to see where all this leads. On the evidence of just this album you'd think it might be taking the present back to the past . . . and a band or art movement with a manifesto is generally making problems for itself a little further down the road.
Interesting (which is a word which suspends judgement, right?)