Graham Reid | | 1 min read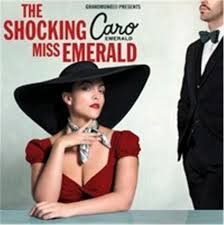 When anyone asked "Why the Famous Elsewhere Questionaire?" I tell them of Little Richard who, when encountering James Brown and his newly formed band the Famous Flames, he said something along the lines, "You all is the only band that calls themselves famous before they've done anything".
Put "Famous" -- in this instance "Shocking" -- out there and enough people will buy into it.
There is nothing shocking at all about Caro Emerald's slinky and sophisticated sound which comes straight out of the high-fashion, slightly risque Fifties (with samples and scratching) and suggests cabarets, tango bars and ladies with cigarettes in long holders.
This Dutch jazz singer saw her debut Deleted Scenes from the Cutting Room Floor of 2010 set sales records in her homeland and reach #4 on the UK charts, this follow-up went straight to the top spot in Britain.
If there's nothing shocking about her, there's also not a lot original and her slightly smoky vocals or breezy bop style aren't especially distinctive. But she has the advantage of a canny producer, smart songwriters assisting or writing for her (Guy Chambers on the tango-pop of Tangled Up) good orchestration and those scratching beats which make this more contemporary than her peers.
So nothing to argue against and certainly a slightly sly wink'n'nod retro album, but its success in the UK does seem very surprising.
Perhaps it was just time for a sophisticated and different album like this.
It happens. Ask Sade et al.
And if there's a Bond film in the offing she could be the one to call. Black Valentine has "roll credits" written all over it.