Graham Reid | | 1 min read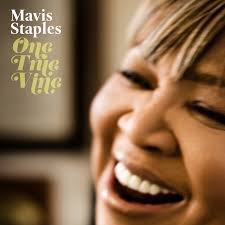 The great Mavis Staples – now 74 – has been immersed deep in the spiritual waters, and therefore has more to draw on, than most singers.
She was a child of the church and well before her teens was singing in the Staple Singers lead by her father Pops. They sang of spiritual redemption, the civil rights struggle for equality and dignity, recorded material by contemporary writers like Bob Dylan, and filled the long march to freedom with uplifting, moving and often heart-breaking songs.
Out on her own Mavis also carved a singular path: she worked with Prince, Dr John and The Band, sang tough-minded rhythm'n'blues alongside her affecting gospel-soul, and has spent the last decade picking up awards. Quite right too, she is exceptional.
This new album (again produced by Wilco's Jeff Tweedy, as was her Grammy-winning You Are Not Alone of three years ago) is a spiritual journey which is a masterpiece of understatement.
Unlike those Idol singers who juggle notes like so many coloured balls or engage in showy vocal gymnastics to impress, Staples needs none of that to engage attention and capture your spirit. Over a series of songs on One True Vine – just 35 minutes of emotions and belief – she sings low and intimate, lets the message and the music do the work, and imbues the lyrics with an rare emotional weight where the Holy Ghost, weeping Jesus and friends in the afterlife (What Are They Doing in Heaven Today) seem close to hand, and heart.
The groove-riding Every Step written by Tweedy is a brooding testament to a life lived in the belief redemption will come to the tired, lonely and lost; Funkadelic's Can You Get To That? is reconstructed as a slow burning singalong with the choir; the yearning Jesus Wept (also by Tweedy) brings to mind the country-soul of The Band; Nick Lowe's Far Celestial Shore nudges up the gospel pace, and the buzzing undercurrent and searing guitars on I Like Things About Me (by Pops) bring funk and swamp-rock into the frame.
It's impossible to resist traditional ballad Woke Up This Morning (With My Mind on Jesus), a song which took me right back to a Memphis church I once visited while the gospel choir was in the spirit, but this song got me there via the rock'n'roll I was brought up on.
Staples is one the few who could deliver a funky, rocking, country-influenced album of optimism and faith which will persuade the cynical and faithless.
She offers 21st century gospel-soul from an ancient religion without it sounding like a sales pitch. She sings from a heart forged in the church and the struggles of life and -- by speaking quietly, as Johnny Cash did – makes us think about the great unseen aspects of this world we inhabit for such a short time.
There's only one Mavis Staples, gospel-soul has been her life's work and One True Vine is soaked in the spirit.
For more on Mavis Staples at Elsewhere start here.