Graham Reid | | <1 min read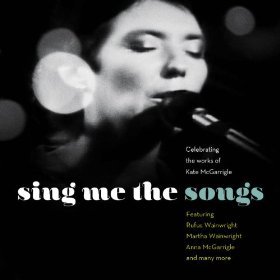 Kate McGarrigle (of the McGarrigle Sisters, with sister Anna) who died in January 2010 not only wrote a remarkable body of songs and sang them beautifully (and sometimes with saltiness) but – with her then-husband Loudon Wainwright III – gave us Rufus and Martha Wainwright.
Joe Boyd (who'd produced the sister's first albums and their live McGarrigle Hour with family and friends in 98) was invited to helm tribute concerts which featured Rufus, Martha, Anna, Norah Jones, Richard and Linda Thompson and their son Teddy, Peggy Seeger and others on Kate's songs.
This double disc is the impressive result and closes with Kate's home demo of her funny spoken word-to-song I Just Want to Make It Last.
Before then are 33 songs lovingly interpreted, and Emmylou Harris's moving tribute Darlin' Kate. McGarrigle was a wise, sometimes autobiographical writer and among the standouts are Teddy Thompson on the little-known Saratoga Summer Song, Broken Social Scene with a funk-folk Mother Mother, Rufus and Antony's duet I Cried For Us . . .
And many more.
That her work could be reframed by these diverse performers is a tribute to her songwriting in itself.