Graham Reid | | 1 min read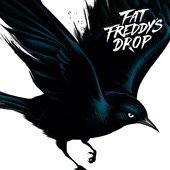 Given this album debuted at #1 on the New Zealand charts -- and deservedly so, it sounds extraordinary -- it hardly needs any comment at Elsewhere.
But . . .
And there is a "but". Because despite the fact it will be warmly embraced by longtime fans, that these long and loping songs (the opener 9.30, only one of the nine coming in under five minutes) will doubtless get the groove-mood going in concert and the superb production subtly spotlights some interesting new mini-direction) there's a "but".
It's that when it kicks off you might just get a feeling of deja-vu and "Is this it?" because while that long opening title track contains tantaslising hints -- melodica, woozy horns, clacking percussion and a vibe that sounds ripe for some dub treatment -- it rather too quickly resolves into a fairly standard and familiar FFD stoner groove.
After the more challenging and rewarding Dr Boondigga album four years ago, this has to count as an underwhelming start to an album that really only gets to grip after the second track Russia (another familiar reggae outing with nods to Lee Perry so sounding pre-dubbed as it were).
From here on -- although picky people like me might quibble with the running order -- this album delivers some exceptional music which just gently pushes the envelope of their own design: the almost martial groove which opens Silver and Gold and later the horn interplay; the dreamily hypnotic Soldier; the touch of swampiness on Clean the House; hints of New Orleans funk on Bones; the massive trance momentum of Mother Mother propelled by chipping guitars and a rare sense of FFD urgency which comes over all stripped-down techno-groove . . .
The final track Bohannon is a "smoke 'em if you got 'em" seven plus minutes of dubwise psychedelica.
These are pieces which gently shift direction and throw other instruments or rhythms into focus as they go. And that means despite their length they are always interesting.
However it's true you still don't come to FFD for the most insightful lyrics other than some push-button familiar sentiments.
So there are a few "but" moments here and despite this having been a long time coming, being polished beautifully and just nudging outwards a little, you would hope that with their substantial and loyal following they might take a few more risks come the next album (in about 2017 at the current rate).
Given the musical accomplishment here though, this does deserve its top spot and you deserve to hear it.
By the way, there is a beautiful double vinyl version of this too. But -- again with the "but"? -- it doesn't come with a free download if you make that investment. That seems a shame.