Graham Reid | | <1 min read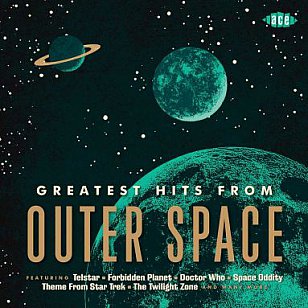 Aside from the broad theme there's little to determine what "outer space" music might be, given this opens with Richard Strauss' dramatic Also Sprach Zarathustra (the 2001 theme and Elvis' intro music) then moves into the Ames Brothers' close-harmony 50s pop hit Destination Moon and the Les Baxter Orchestra with Lunar Rhapsody (featuring Samuel Hoffman on theremin).
Inevitably (and welcome) are the Ventures' terrific Joe Meek-produced Telstar (and with theme to The Twilight Zone), the BBC Radiophonic Workshop's theme to Dr Who, the Byrds' gimmicky Mr Spaceman and Bowie's first version of Space Oddity.
Interesting though David Rose's orchestrated music for Forbidden Planet is, the Barron's disconcerting electronic music from that film might have been a better inclusion -- and Bobby Womack tries too hard on Jonathan King's lonely Everyone's Gone to the Moon.
Here too is rock'n'roll (Billy Riley and His Little Green Men, Gene Vincent), Ella Fitzgerald (Two Little Men in a Flying Saucer), bluesman Lightnin' Hopkins (Happy Blues for John Glenn) and, oddest of all, the theme to Star Trek credited to Leonard Nimoy who remains mute throughout and doesn't play a note.
No wait, odder is I-Roy and Lee Perry with Space Flight.
Puzzling, well annotated and sometimes fun.