Graham Reid | | 1 min read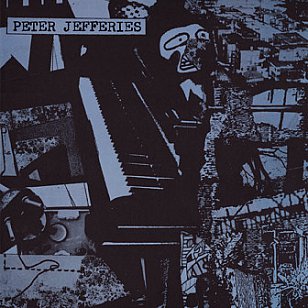 To be honest, I had not heard -- or even heard of -- this debut solo album by Jefferies. Forgiveable perhaps given it first came out as an Xpressway cassette-only release in 1990.
But its legend loomed large because after some underground critical acclaim internationally it -- plus the single Fate of the Human Carbine b/w Catapult -- was released on record and CD by Chicago's Ajax label in the mid Nineties.
And now it gets re-presented as a vinyl release (with a download code for the mp3s) through DeStijl out of Minneapolis and released in New Zealand through Flying Out. DeStijl proudly procaimes it has undergone no remastering at all.
Jefferies is a seminal figure in New Zealand alternative rock for his roles in Nocturnal Projections and This Kind of Punishment in the Eighties (and the killer single Randolph's Going Home with Shayne Carter of Straitjacket Fits). Cat Power has covered Fate of the Human Carbine.
Although this is nominally a solo album (Jefferies sings, plays piano, drums, guitar and percussion as well as engineering and producing) there are contributions from some of alt-NZ's most significant heavyweights including -- at various times -- all of the Dead C (Robbie Yeats, Bruce Russell, Michael Morley), Alastair Galbraith, Robbie Muir who were in Plagal Grind with Jefferies and David Mitchell (the latter also here), Kathy Bull from Look Blue Go Purple and Nigel Taylor.
Those expecting the noise-core approach of some of Jefferies' projects will be surprised by the low-key approach here as he steps out as a poetic singer-songwriter with off-kilter piano, a careworn but committed vocal style, and some truly affecting songs like the meditative On An Unknown Beach, and folksy Fate of the Human Carbine and the droning title track.
The spirit of early Velvet Underground hangs over the droning Guided Tour of a Well Known Street (with Russell on appropriately disconcerting guitar) and Cold View, there are uneasy sonic effects (the more abstract and spoken-word House of Weariness with slowed-down backward vocals from Morley) and Jefferies multi-tracked piano has a weirdly world music quality (of no fixed location) on the instrumental Likewise.
Yes, there is certainly some scouring guitar here (the crunching soundscape of Catapult, the buzz'n'churn of The Other Side of Reason) but it is those other more muted-mood songs -- among them the subtle While I've Been Waiting -- which are real repeat-players. The piano ballads Neither Do I and Listening In sound elegantly simple but each reveals itself in a new way on each new listen.
In the context of its time this album must have been quite a revelation, it certainly is today. Especially if, like me, you have never heard it before.

You deserve to hear it now.
To purchase Peter Jefferies' Last Great Challenge in a Dull World go here.