Graham Reid | | <1 min read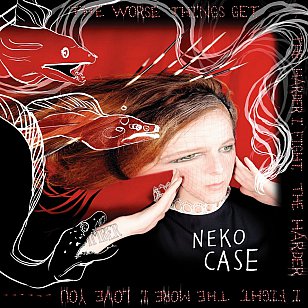 This album's full title – The Worse Things Get, The Harder I Fight, The Harder I Fight, The More I Love You – barely hints at the emotional depth, anger, passion and soul-baring on display from someone who comes out bruised but swinging: "Fat-fingered bullies were no match for me . . . you'll have to deal with me" she sneers on the furiously jagged pop of Man with brittle guitar by M. Ward.
Telegraphing song titles include I'm From Nowhere and Afraid.
There is gentleness on Calling Cards (although the "blah-blah" suggests there was nothing worth waiting for in the messages) but most nerve ends are raw here, as on Local Girl with its broad-brush refrain "all of you lie about something" as backing vocals chant "shame on you, all of you".
And on the musically disconcerting Where Did I Leave That Fire ("I wanted so badly not to be me"). Case doesn't spare herself, but sometimes nor does she others.
On Nearly Midnight, Honolulu she witness a distraught mother yelling at her crying kid, "Why don't you ever shut up?" but Case's response projects and presumes too much. To say the mother didn't love the child is judgmental, shallow, unsympathetic and unworthy.
This was never going to be easy – she lost her beloved grandmother and estranged parents recently – but isn't album-as-therapy, rather a catharsis which pulls you into a contained world.