Graham Reid | | <1 min read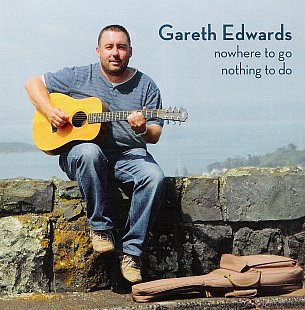 Although few -- actually none -- would hail UK-born singer-songwriter Edwards as an exciting new voice in New Zeaand music, his unpretentious and often rather simple take on country-rock and pop has some charm for the ordinariness of his worldview which takes straight shots at just hanging around, relationships and a laid-back existence.
On the singalong Friends he sings; "Where would we be without our friends . . . friends will always stick around, friends will never let you down. That's not true, they'll let you down, but they'll always stick around . . . even when they let you down."
Truer words were never spoken.
The bucolic rural Down on the Farm ("doin' no one harm") where the cows go moo and the chickens go cluck has an amusing twist: there's maybe an alternative universe where the chickens go moo . . .
This isn't an album I could imagine many -- or indeed any -- Elsewhere listeners would race towards.
But if Edwards was playing in a local bar or an outdoor festival you'd probably enjoy his take on life, love, happiness and . . . .
I can't hear the comparisons with "Jack Johnson, Brain Wilson (sic) and Randy Newman" which his website claims.
More an ordinary bloke singing ordinary songs about ordinary stuff, in a way.
You probably haven't heard anything like that in a while.
For more on Gareth Edwards and to buy his album, check out his website here.