Graham Reid | | 1 min read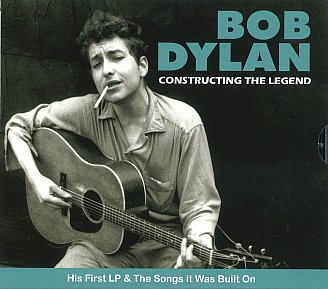 As songs from the Sixties come into public domain (after 50 years) we can expect to see more albums like this.
Here, alternating, are Bob Dylan's songs from his debut album released in March 1962 with the songs which inspired them.
Given that all but two songs on that original album -- Talkin' New York Blues and Song to Woody -- were covers or adaptations of traditional songs (Man of Constant Sorrow, House of the Rising Sun among the latter) many of these songs will be familiar to folk fans or those who have trawled this period of Dylan searching for sources and clues.
Even Talkin' New York Blues pulls heavily from Woody Guthrie's Talking Subway (which Guthrie never recorded, here it's by John Greenway and much more political than the Dylan).
If this reissue serves to remind just how good some of Dylan's interpretations were then it will have served a decent purpose. He really nails the traditional In My Time of Dyin' (here coupled with Blind Willie Johnson's Jesus Make Up My Dying Bed which Dylan adapted and made some interesting lyrical changes) and also his darker treatment of Blind Lemon Jefferson's See That My Grave is Kept Clean.
But it is the source material which is perhaps of even greater interest if you know the Dylan.
Dylan's urgent Highway 51 sounds like a dress rehearsal for the later It's Alright Ma (I'm Only Bleeding), but Tommy McClennan's New Highway 51 from 1940 is a slow blues. And Odetta's haunting and holy Hold On (from which Dylan made the strident, harmonica-driven Gospel Plow) is a standout.
A worthy project (with brief liner notes on each song) but only of marginal interest to most.
There is much more on Bob Dylan at Elsewhere starting here.