Graham Reid | | <1 min read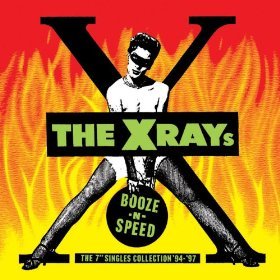 Umm, you can perhaps guess the sound of the contents here from the album title alone, but if you need more clues then here are some of the titles of the 26 flat-tack, lo-fi songs: Nitro Burnout, Hittin' the Booze, Trashed Out, Good for Nothing, Dragstrip Killer, Arrogant Fucked-Up Shit, Don't Fear the Repoman (that's funny), Grease Monkety Go, Special Agent Whore . . .
We could go on (right to 2 Bit Whore and Drinkin' for My Baby at the end) but things should be clear enough.
So just let it be said that this "shiny digital beer mat" collects all 11 of this Nottingham band's 7" singles who existed between '94 and '97. There was a brief reunion in 2002 and they are apparently back with "same shit, different drummer".
Drinkin' for My Baby is their new song and, unsurprisingly, it sounds pretty much like their old stuff: thrasy, trashy, furiously fast, a bit of feedback and all over one and a half minutes.
Don't Fear the Repoman.
Ha ha haaa.