Graham Reid | | 1 min read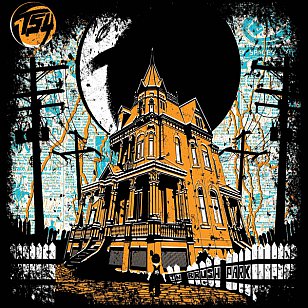 Although it must be irksome for some of the younger Flying Nun bands to find their music constantly being referred to in the context of their predecesors like the Clean, Chills, Bats and so forth, some (eg Surf Friends' Confusion) invariably invite the comparison.
And certainly when this excellent album kicks in with the dreamy Nails Painted and there is a pulsing bassline prominent you cannot help think "Pink Frost".
But then after some undifferentiated guitar maelstrumming at the midpoint and a howl of feedback at the end, this debut album by the Christchurch trio of Joe Sampson, Matt Scobie and Sam Hood delivers a series of songs -- some effectively left-field pop, others like the seven minute-plus closer Biscuit City Sisters spiralling out into elevating guitar wizardy -- which are enormously impressive.
Yes, there is something of that Bats-like Southern strum about Life is Swell but it is such a small hint that T54 come at you on their own terms. Reference points in the surging guitar pieces might equally be Jesus and Mary Chain, My Bloody Valentine or fuzzed-up power pop.
But it isn't all same-same aural density with vocals dropped way down in the mix: they push towards dreamscape ballads (O Nina, the lovely AC Parade with that prominent bass again), work the metal edge of searing pop (Return of the Worm) and understand punk economy (SW Chops).
So over these tight 36 minutes there is discreet diversity within the template they have established.
One of the most promising Flying Nun -- in fact, New Zealand -- bands heard at Elsewhere in a while.
Check this one out.
T54 In Brush Park album launch dates
Friday 6th Dec, Cassette 9, Auckland

Saturday 7th Dec, Mighty Mighty, Wellington