Graham Reid | | 1 min read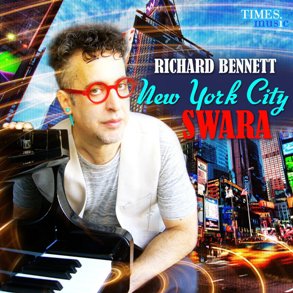 This unexpectedly delightful album is pleasingly hard to pigeonhole: a classically trained New York pianist inspired by the classical music of India when his jazz vocalist wife Paula Jeanine went to Mumbai/Bombay to study with renowned singer Dhanashree Pandit-Ra.
So this album might just as easily appear under classical music or world music -- and when you learn Bennett has also played traditional music in a Greek band, worked as second-line New Orleans pianist and leads his own trio in a Japanese club we have ourselves one very Elsewhere musician.
Oh, and in Mumbai he performs in Mumbai Masala with Pandir-Rai, as well as in RB4 playing Professor Longhair and other NO stylists.
Piano of course is an unusual instrument to be exploring raga modes on, but with a nod to minimalism and repeated left hand figures, Bennett manages to bring that distinctive drone sound into pieces which are undeniably Indian in influence but also are not -- and cannot be -- strictly traditional.
The result is an album which exists bewteen two worlds but -- as with early pieces by La Monte Young -- creates a unique space of its own.
There is a pianistic urgency about the central passages of Raga Hamsadwani - the three part piece which opens the album -- but elsewhere, by incorporating violin (to achieve those distinctive microtones), tamboura, melodica, tabla and electronica, Bennett and his small ensemble bring the sound of the subcontinent into the concert hall. Also on hand are upright bass and a traditional drum kit, so this is music with a wide sonic and emotional reach.
The first part of Raga Gunkali is an evocative delight of space, undercurrents from violin and tabla, and an almost pointillistic piano part in places which then ebbs and flows with a tidal gentleness.
Tabla player Naren Budhkar propels Samurai (the second part of Raga Gunkali) and the broody second section of Raga Puriya/Nightfall where Bennett hits some strident dark chords.
In other places we are in a more mainstream and MOR context: Here I Am, a slight ballad which is the least of things here, and Tone B (piano and tickling electronica which is equally underwhelming).
However the more obviously Indian-influenced pieces -- that is the vast bulk of things -- are uniformly impressive, different, interesting and frequently transporting.
This is quite a journey Bennett has been on, and you really should join him on the ride of discovery.
This is a digital-only release through New York's RockPaperScissors and you can find out more about them and this album here.