Graham Reid | | 1 min read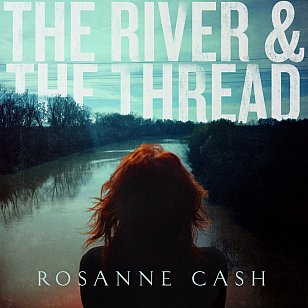 One of the last songs Johnny Cash recorded was the moving September When It Comes with his daughter Rosanne for her 2003 album Rules of Travel. In a cracked baritone Cash confronted his own weaknesses and impending death, but just as powerful was Rosanne's honey-sweetened counterpoint vocal.
Co-written with her husband/guitarist and producer John Leventhal, it remains a highpoint in her decades-long career, and the pair manage some equally fine songs among the 11 on this crisply recorded outing where death, traveling on and mortality are woven throughout.
Prompted by visits from her New York home to the South when Arkansas State University bought her father's childhood home in Arkansas, the album rings with her rediscovery of that land where her family toiled on a cotton plantation (The Sunken Lands) and which is soaked in the blood of battlefields. When The Master Calls the Roll co-written with former husband Rodney Crowell resonates like a Civil War ballad.
On Etta's Tune she also sings from the perspective of her father's hard-living bass player Marshall Grant who died in 2011 at 83 after attending one of her fundraising concerts for the Cash home. She has him reflecting on a 64-year marriage, and how hard he had made it for his teetotal and supportive wife.
Throughout there is a sense of going home, and the river rolls on.
One of the highlights is the simple Tell Heaven ("when you're like a broken bird/when you've got no one to love, tell Heaven") and her emotionally restrained delivery brings gravitas to lyrics replete with religious allusions (The Long Way Home about her life's journey back to her roots) or play with evocative geographical locations such as Mississippi and the Tallahatchie Bridge (although her birthplace Memphis maybe gets too many push-button name-checks).
The overall effect is of thoughtful, mature and sometimes downbeat reflections on life and relationships which come with strings (The Long Way Home), a country twang (World of Strange Design) or underplayed, almost jazz-lite, arrangements (Night School).
Among the supporting cast are fiddle player Dave Mansfield, slide guitarist Derek Trucks, and the backing vocalists on When the Master Calls the Roll include Crowell, Kris Kristofferson, John Prine and Tony Joe White.
Unabashed joy in life may seem in short supply here, but this Cash proves again she does the darkly philosophical, ruminative stuff better and more convincingly than most.
Rosanne Cash is interviewed at Elsewhere here about this new album.