Graham Reid | | 1 min read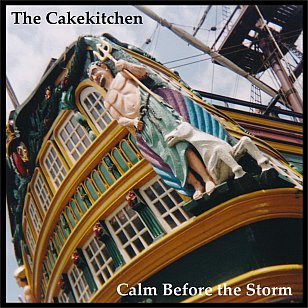 The Cakekitchen which revolves around former This Kind of Punishment/Nocturnal Projections singer/guitarist Graeme Jefferies have been around since the late Eighties -- although their posted discography doesn't note their excellent self-titled Flying Nun EP of '88 which featured Dave the Pimp, Witness to Your Secrets, Silence of the Sirens and Machines, some of which appear to have turned up on other releases.
Theirs is therefore a long and slightly convoluted discography of nine albums and more than a few singles and EPs down the decades, and perhaps harder to get a bead on because Jefferies spent so much time in England, France and Germany, and various line-ups of his Cakekitchen played in the US and Europe.
Jefferies returned to New Zealand in about 2007 (then went to Sydney) but perhaps all you need know is that this album (available on vinyl) continues in his tradition of often hypnotically low-key songs where his multi-tracked voice -- engagingly dropping into an arresting baritone at times as a signature style -- rides melodically over rolling and rippling guitars.
It opens with the nine minute For So Long which comes off like something out of the Can/Neu! axis but could equally have its origins in the Middle East or the Appalachians as odd guitar phrases overlap and what sounds like electric sitar or banjos are part of the tapestry.
Elsewhere piano and guitar adopt a more stately and disembodied sound (Little Blue Penguins which, with the sound of wildlife incorporated, cries out for a nature soundtrack to be part of, as does the gentle Parrot Island), there are eccentric acoustic stories (Back of the Bus, the rolling and quirky Mrs Fishbone, the orchestrated and odd Little Shit of the Week) and the music is layered with enticing found sounds and field recordings (water lapping, rain and wind sounds).
There is also a charmingly minimal approach in places (the spare piano piece Come Back Home), amusing throwaways (the schizophrenic and brief Work Today) and some broadly political ideas infiltrated.
And I for one will beware of Boganfoot Bill.
The gentle title track which closes the album with wind and rain, strings and singing bass lines is a sheer, simple delight.
So taken as a whole this is different, alright.
If albums like David Kilgour's Here Come the Cars or some of Syd Barrett's solo work ever held any appeal, then Cakekitchen have the album for you here.
And if you get the vinyl be sure to read what is scratched into the plastic near the label. Hilarious.
For the limited edition vinyl release or the CD with handmade covers by Jefferies go to: roughpeel.co.nz