Graham Reid | | 1 min read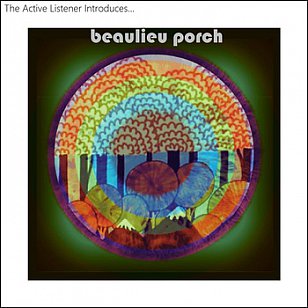 With a name which suggests Southern soul more than psychedelics, this project by Simon Berry from Salisbury, England quite specifically narrows the focus of influences to between May '67 (the release of Procol Harum's Whiter Shade of Pale, hinted at here on Virgil) and December of that year (the Beatles' Magical Mystery Tour) for this impressive debut.
This collection of material from BPorch's first two albums gets a presentation as a digital download through Wellington's Active Listener site as part of their on-going The Active Listener Presents . . . series. And what a welcome one it is.
Although Berry's voice favours something close to an airy falsetto which means there's not a lot of vocal punch sometimes, the sky-wide arrangements full of baroque orchestration, Walrus-like chants and choruses, Ringo's classic drum fills and patterns from that period, and so on are a sheer delight.
Interestingly Love 80 sounds like a further trickle-down of I Am the Walrus in places, but more akin to McCartney's recent single Queenie Eye with its slightly urgent, chanted verses (although this came out well before Macca's song).
As with classic Beatles psychedelia, these songs are also short (only two even approach four minutes) so are like psych-pop miniatures which create and inhabit a world of their own, and it's a world of sky and clouds, pastoral warmth, angelic voices . . .
If Sgt Pepper/Smile/Flaming Lips' Do You Realise and other such things appeal, then Simon Berry/Beaulieu Porch and Active Listener has the album for you with this one.

To purchase this download for as little as US$5 go the Active Listener site at bandcamp here. And for more psychedelic albums through Active Listener check their website here. They have also just posted an interesting sampler album here you can stream or download (name your price).