Graham Reid | | 3 min read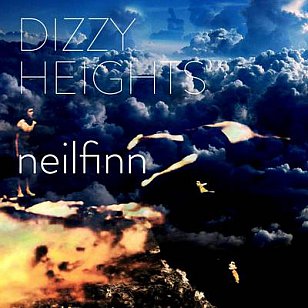 Last week a friend and I were discussing artists with long careers who simply cannot acknowldege their best years are well behind them.
While there are exceptions of course, the vast majority of artists in the pop-rock genre do their best work early in their career and much of what follows is repetition with diminishing returns.
Unless U2, for example, do a serious career-change as they did with the thrilling Achtung Baby/Zooropa period, does the idea of a new album from them fill you with any excitement?
Or another Coldplay album?
We might reasonably guess these will be business-as-usual.
I also mentioned Joni Mitchell. I'd just read a lengthy interview with her (Uncut perhaps) and they had a sidebar of all her albums rated out of 10. After that golden period which ended with Hejira in the mid Seventies only one subsequent album rated above a 5/10.
So what then of Neil Finn who has had a career of nearly four decades in Split Enz and Crowded House and then his subsequent solo work (and side-projects like Pajama Club as well as various collaborations and so on)?
What has been notable of his recent years however is how he has been prepared to work with younger musicians and push himself into directions which -- as with the enjoyable but never durable Pajama Club -- were personally rewarding if not just plain fun.
So we take Finn to be one of those rare exceptions who remains true to his muse but also has a capacity for experimentation and re-invention.
And few artists at his stage in life -- although this is only his third solo album, and the first under his own name in over a decade -- would dare open a new album with such a dreamy, slow, atmospheric and understated song as Impressions here which is underscored by warm and fluid guitar, and some subtle soulful wah-wah.
If there's a word which applies to much of this album it is "soul" -- in style and content -- and frequently it sounds as if Finn has connected with his own, smooth sheen but comforting version of blue-eyed soul on songs like the elevating title track where his vocals are just a touch below a falsetto and have delightful lightness.
Flying in Face of Love also rides a gentle Philly-style groove, and the seriously embellished and psychedelic Divebomber also features a genuine falsetto on a song with an eerie emotional content.
And although at core Pony Ride might be one his most familiar pop-rock songs here the arrangement and production shove it into different territory with churning subcurrents.
The very empathetic and lovely Recluse also could have worked some familiar Finn tropes but instead he adopts a very different voice (more George Harrison than the familiar McCartney references he has often been lumbered with) and tone as he reaches out to those who would withdraw from life.
Working with co-producer Dave Fridmann (Flaming Lips, Mercury Rev, Tame Impala etc) has doubtless given Finn not allowed the freedom and intention to work in this different way but also to pull it off so successfully.
Even when he gets domestic dealing with a more adult view of love and relationships (Better Than TV) the lyrics come with a tension enhanced by the percussion, ansd the swirling currents of strings and synths. And -- as when he produced Dave Dobbyn's superb Twist album -- Finn (and Fridmann) use odd sonic effects with discretion and serious intent beyond simple distraction.
The scrapes and electro-static which open White Lies and Alibis are effective introductions to a song which is equally disconcerting and starts with "this hell is one of my own making . . ." It becomes seriously disturbing and almost bleakly cynical in its closing, psyched-out, overs.
That sense of unease, of risks taken and losses, of finding strength through love or even just enduring, run through the album like a unifying thread, just as the sonic textures pull these songs together in their own way.
Interestingly too the songwriting credits include three co-writes with Finn's wife/bassist Sharon and multi-instrumentalist SJD (one only available on the CD version) as well as In My Blood with sons Liam and Elroy, and Connan Mockasin.
Taken as a whole, this album pushes when a lesser artist might have retreated. And there is an engaging arc towards the final two songs: the intimate-then-heroic reflection of In My Blood and the elegant minimalism on Light of New York.
Few artists can discreetly hold as much of their past as they step forward into a different musical landscape. Shane Carter's first Dimmer albums after Straitjacket Fits are a reasonable analogy to Finn here.
So this is not an album for anyone wanting more Don't Dream It's Over or Weather With You, but if "21st century singer-songwriter psychedelic-soul" is a category, Neil Finn is in the vanguard.