Graham Reid | | 1 min read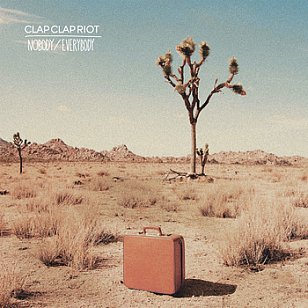 Clap Clap Riot's previous album Counting Spins was such an instant Elsewhere favourite for its sharp, slightly bratty pop and keen intelligence (see here) that this new one was always going to command attention.
But first, this . . . in the heydey of pop in the Sixties what was interesting was how singles came with an identifiable aural fingerprint which set them apart; Farfisa organ, harmonica, cowbell, fuzz guitar, opening riff and so on. You could identify a song with a few bars.
That's a gift which has deserted many younger bands today, but CCRiot have that in spades.
With Kody Neilson producing, here are 12 pop songs (averaging three minutes) which all come with a distinct and discrete stamp, whether it be the chunky chords opening Sweet Patricia (it starts with the title which helps); the bratty boredom of Keep Me Up All Night (which includes great lyrics like "if you want to get up, go and fucking get up, I just want to sleep in again" and comes with a classic Fifties pop hook in the chorus, really their forte); the drum pattern and guitar tickle on Ask My Girl, the grunt and groove which kicks off Once Again with handclaps to the fore . . .
But added to that sense of concise, fully conceived short'n'dirty pop songs is the edgy sound of guitars, the sometimes snarky lyrics (Out of Here) and the sheer energy on songs like the driving Nobody (which at times could neatly segue into the chorus My Sharona if they so chose, if it weren't such a pithy statement of its own).
They also deliver disaffection with wit (I Don't, with an economic psyche feel) and the result is a snappy and crackling pop-rock album which keeps both feet in the garage but still recognises the potential of power pop, as did that last album.
CCRiot remain one of the most important New Zealand bands of the moment because they write and deliver memorable songs, and here -- with Neilson's canny ear -- they bring them to life on an album which often feels like they are playing it to you in the same room.
Terrific. Again.
On the release of Counting Spins, the band's Dave Rowlands answered the Famous Elsewhere Questionnaire here.