Graham Reid | | 2 min read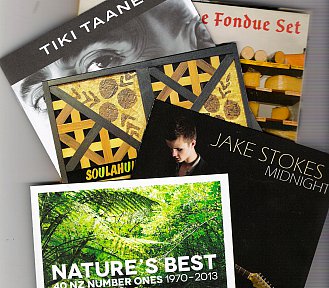 Facing down an avalanche of releases, requests for coverage, the occasional demand that we be interested in their new album (sometimes with that absurd comment "but don't write about it if you don't like it") and so on, Elsewhere will every now and again do a quick sweep like this.
Comments will be brief.
Soulahula: You & Me (Choice): In the late Seventies and through to the early Nineties the Sam Ford Verandah Band (featuring singer Trudi Green) were regulars on the live circuit in New Zealand (notably around Auckland), but after the demise of the Gluepot, Java Jive et al the work dried up and their backporch, easy and often goodtime sound disappeared offshore (to London these past 15 years). They briefly returned to Auckland for some shows in January and February (this album of almost-all originals, promised by Ford in an e-mail, arrived the day before their final show). It is a pleasant mix of Green's soulful sound (with a touch of New Orleans and classic Motown), thoughtful ballads, the relaxed feel of a Ry Cooder-meets-Pacific style, Ford in Al Green mode . . . Deserves a better fate than being ignored, but despite my web efforts I can't find out how you can get it.
The Fondue Set; Down to the Rhind (caitlinsmith.com): The cheesily-named Fondue Set (who to their credit played on the joke with previous album titles Stick A Fork In It and In a Blue Vein in '99 and 2000 respectively) broke up in '04 and the separate talents of singer Caitlin Smith, and guitarists Steve Gerrish and Nigel Gavin pursued other careers. This album was recorded at the Lake Taupo Arts Festival at the start of that year and finally sees release (having been mastered by Phil Yule). It's a diverse collection of acoustically realised covers which include the Muppets' Rainbow Connection, Simon and Garfunkel's Feelin' Groovy, the Turtles's Happy Together, the standard Secret Love (think Doris Day's version not PJ Proby's), Tennessee Waltz, Cole Porter's Love for Sale, the Mingus-Joni MItchell Goodbye Pork Pie Hat and Led Zepp's Ramble On. And somehow all this sounds unified by this enormously talented jazzy trio. On the cover they pose in the Kaiwaka Cheese Shop. Tasty. Available from here.
Tiki Taane: With Strings Attached (TikiDub): Despite decades of albums of the London Symphony Orchestra playing pop songs, orchestral arrangements for Stones, Procol Harum etc, and Metallica done by a string quartet, I'm still not sure who this music for and who buys it. Here former Salmonella Dub singer Tiki Taane steps out with an 18-piece orchestra and friends from Shapeshifter and Jakob, Ria Hall and others plus a kapa haka group. Often the orchestra seems incidental and songs like Love Your Ways (fr the SDub period) lack fire, Always on Mind is forgettable, and there is a lot of stage chat which might have best been edited out. You get the need for his intro to the lovely Nana's Song with Hall but you'll hit skip after you've heard it once. But the tuning up then chat about his son before Starship Lullaby? And a full five minutes about his trouble with the police before Freedom to Sing and that whole story again? And dedicating it to Kim Dotcom like was some kind of freedom fighter! All this must have been good on the night, but such things drag an album down. Again, not sure who this is for.
Various Artists; Nature's Best (Sony): Just as the subtitle says, "40 NZ Number Ones 1970-2013" which means a chronological romp from John Rowles and Space Waltz to Ginny Blackmore and Jackie Thomas. For a full tyrack listing see here.
Jake Stokes; Midnight (Apollo): Banging blues-based rock by an impossibly young looking band from Wellington fronted by this impressive and sometimes flashy guitarist and singer Stokes. Vocally he lacks a bit of the strength required to propel some of these songs but he writes a better than decent song and can pull off searing solos. You can hear samples here and the album is available through iTunes. Very promising.