Graham Reid | | <1 min read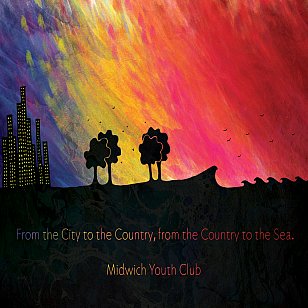 Further to Elsewhere's exploration of contemporary psychedelic music (courtesy of The Active Listener, see reviews and interview here), this outing by the multi-instrumentalist Allan R Murphy from Britain connects a few dots on the psych-into-prog map.
This all-instrumental outing -- guitars to the fore in cinemascope -- consists of 10 parts, the first five the City-to-County and the second Country-to-Sea, which evoke a spiritual journey beyond death.
It doesn't sound like an easy passage to the afterlife as the tension is high (the first parts of Country-to-Sea are gloom-laden) but if getting there with aural references to King Crimson, Explosions in the Sky and others along this path are to your liking then Midwich Youth Club are certainly your soundtrack.
There's considerable gothic melodrama here too as great swathes of sound accompany the spirit's flight through thunderheads more than clear blue skies.
Curiously -- and perhaps this is just something to do with the download I got -- a few of the tracks cut off abruptly rather than fade as I expect they are supposed to do.
At a lower level it makes for interesting ambient listening but racked up loud you get the full prog experience, and certain sections (Country-to-Sea Pt 4 especially) have an independent life of their own which is very persuasive.
This album is available for download from bandcamp here.