Graham Reid | | <1 min read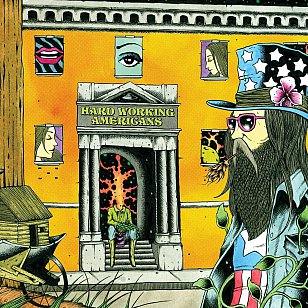 Post-Springsteen, working class dignity is in the air and in the US they have the same political shorthand we endure about "hard working families" when any Leftist politician steps up for a microphone soundbite.
This semi-supergroup – best known are guitarist Neal Casal (Ryan Adams' bands) and singer-songwriter Todd Snyder who helms this – picks up songs about struggling blue-collar American families from the always-overlooked street-poet Hayes Carll, Randy Newman (Mr President Have Pity on the Working Man), Gillian Welch and Dave Rawlings (Wrecking Ball), Will Kimbrough and others.
It's an uncompromisingly sympathetic view of life from the bottom of the fiscal totem pole. In an industrialised society an escape to ruralism – The Mountain Song by Kieran Kane – might seem naïve, but Snyder's broken delivery and Casals' elevating Byrdsian/Tom Verlaine solo are very persuasive.
But the factory-closure, minimum wage and unemployment cheque barroom anger (Stomp and Holler) is equally convincing.
Welfare Music here nails it perfectly.
This is how thoughtful Americans articulate socio-political disillusionment in song.
So, who's doing this here? Are things so good we're as "relaxed" as our betters? Doubt it.
Ain't it always the rich what gets the pleasure, and the poor what gets the blame?