Graham Reid | | <1 min read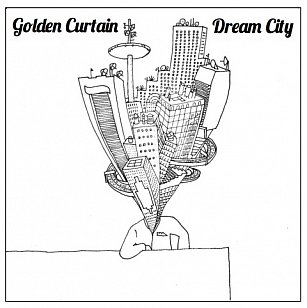 Elsewhere was mighty impressed by the unpretentious pop-rock of the previous Golden Curtain album English Tuning and we're now pleased to note that was an opinion shared – according to their bio – by the Toronto Star and some reviewer in San Francisco.
Not bad for a New Zealand trio with a very low profile, despite their prior form in bands like Garageland and Grand Prix.
They still mine that rich vein of jangle-rock (the terrific title track three songs in) but here open with an ambitious scene setter Canyons of the Dream which has the kind of ambition of the Moody Blues/ELO as rendered down by a three-piece. It's quite breath-catcher and just sounds big. And they start as they mean to go on because the follow-up is the driving Network Place on which you are reminded of their power-pop pedigree.
That said, some of their even better material comes later in the broody It Was You, the mile-wide country-rock chime and punchy beat of Sweet Louise, and the airy-filled and lazily-delivered ballad Talking in a Dream.
This isn't quite the album that English Tuning was, their direction seems to have shifted from widescreen to more containment, but we're very glad to have this one.
The brittle Lost Again and that title track have been getting repeat play, repeatedly.