Graham Reid | | 3 min read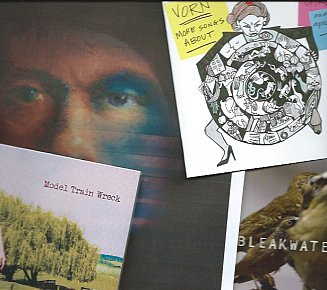 Facing down an avalanche of releases, requests for coverage, the occasional demand that we be interested in their new album (sometimes with that absurd comment "but don't write about it if you don't like it") and so on, Elsewhere will every now and again do a quick sweep like this.
Comments will be brief.
Sherpa: Blues and Oranges (bandcamp): Having enjoyed Sherpa a number of time live and finding Earl Ho's eccentric/sartorially eclectic stage persona oddly exciting, it was pleasant surprise that their debut album Lesser Flamingo of 2012 should be so coherent and focused when their live showings sometimes weren't. If anything this new one is even better in that it is stacked with hooks (even if the one on BZZY is a straight lift from Marvin Gaye's Hitch Hike via the Stones) and in its first half has a delightfully late summer quality from the breezy opener (The Beach) through the shimmeringly exotic Love Film and the irrepressible pop of Homeless to the light-filled McCartney-like ballads and Ho's falsetto soars. Even when they kick things up a notch as on Quit Time the organ sounds like a demented fairground, and Can Surreal is a tightly wound spring which signals the slightly more dense -- and sometimes less satisfying -- second half. Here there are a few more shapeless songs scattered about (Eclypse the Night Away takes some work) but over the 15 songs in 40 minutes, I think this is a better album than even they think. And who knew the Raspberries could be an inspiration in 2014, even if unwittingly. Available from bandcamp here as a download or limited edition vinyl.
Model Train Wreck; Model Train Wreck (independent release): Enjoyable pop-rock with its ears on refined rockabilly, swinging sax rock'n'roll and some snappy New Wave smarts. Plenty of material here for radio (even the Port Chalmers Murder Ballad has a sprightly and upbeat step about it) but every now and again (The World is Bubble) you might wish for more bite and edge to parallel the lyrics. Imagine the Stray Cats with better table manners. Available from the band and selected stores. Contact them through their Facebook page.
Bleakwater; Bleakwater (Southbound): Proof that you can't beat a good song, especially in the alt.country, folk-into-rock territory where the material is stripped back and any flaws are manifest. Bleakwater are Stu Brown, Peter Cogswell, Catherine Henehan (also in City Oh Sigh), Steve Hinderwell and Hikitia Ropata from Wellington who share songwriting duties across these 11 songs which deftly shift from country-folk ballads into experimental (Lemon Lye which comes in two parts) to a tickle of country blues in the Gideon Days. Among the standouts is the slightly disconcerting Standard Meantime. Good harmonies, concise and memorable songs and a real feeling they could do this in your lounge just as well as they might on a small stage where the intimacy would work in their favour.
Vorn; More Songs About Girls and the Apocalypse (vorn): More of the wayward genius of Vorn Colgan whose every album is almost inevitably acclaimed as his best yet. This may well always be true, and any album which has a rapping track entitled The War Cry of J Alfred Prufrock (as this one has, alongside History Never Deletes and Drowning Kittens) is probably a serious contender for the title Cult Artist of This Or Any Year. Vorn's lyrics can be shot through with wit, but also a kind of existential darkness (Drowning Kittens impassively sung by Anna Edgington over brittle guitars is no fun at all) and considerable self-deprecation (the jaunty sounding The Story of My Fucking Life). More extraordinariness (from rock to the operatic, rap to nagging nods to elelctronic minimalism) and you'd expect nothing less. Discover him if you haven't already. It's always quite a ride. Available from here.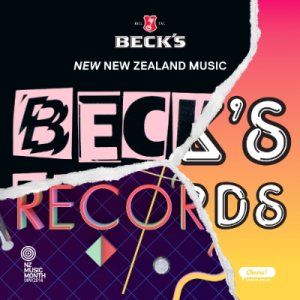 Various Artists; Beck's new New Zealand Music (iTunes): A good idea for New Zealand music month, 10 new tracks by local artists specially commissioned for this collection. There's no pattern here, just ne material from very diverse artists so you pays your moneyt and you takes your chances. Bound to be something you will very much like. Here's the who's who and what they do: Two Wolves – Sand Purgatory; Ghost Wave – Who's Doin' The Talkin' ; Doprah – Love That I Need; Third3ye – Indigo; Lawrence Arabia – His Parent's Jeep; Janine & the Mixtape – Walk Away; The Phoenix Foundation – Dalston Junctiom; Ash Graham – Calling; Little Bark – Arpreggiator; SuperVillainsRMC – My God Feat. Bailey Wiley.
Available from iTunes here.
For previous SHORT CUTS at Elsewhere go here.