Graham Reid | | <1 min read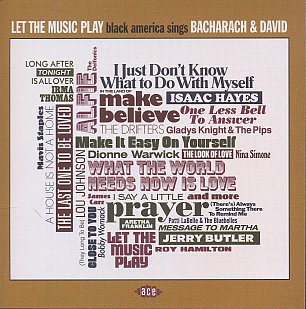 It's one the great ironies that Hal David's name is less familiar today than that of his most famous writing partner Burt Bacharach.
It sometimes seems that the shorthand of pop speaks about Bacharach's songs . . . but that rather ignores that Hal David provided all those memorable words which people sing.
David -- who died in September 2012, aged 91 -- was a poet of pop who could economically encapsulate an idea, emotion or the zeitgeist": "What the world needs now is love . . ." captured the spirit of the mid Sixties and especially later after the assassinations of Martin Luther King and Robery Kennedy in '68.
David puts the words into the mouths of Dionne Warwick, Aretha Franklin, NIna Simone, Mavis Staples, Gladys Night, Gene McDaniels, Cissy Houston and the many other black artists on this well annotated 24 song collection.
Consider this partial lost of classic pop songs included here: Make It Easy on Yourself (here by Warwick), I Say a Little Prayer (Aretha), Message to Martha (Jerry Butler), This Empty Place (Cissy Houston), Always Something There to Remind me (Patti LaBelle); The Look of Love (Simone), Walk on By (Gloria Gaynor) . . .
Hal David -- with or without Burt Bacharach -- was one of the greatest lyricists of the past century.