Graham Reid | | 2 min read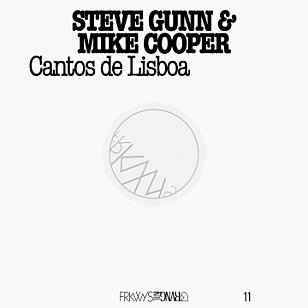 New York singer/guitarist Steve Gunn (often in Kurt Vile's touring band) has appeared at Elsewhere previously with his highly recommended Time Off album of last year, but British singer/guitarist/electronic experimenter Mike Cooper --a few decades Gunn's senior -- was, until recently (see below), a name new to us.
But if experimental acoustic guitar duets with sometime vocals, some strange sonic deconstructions, hypnotic overtones and left-field approaches with nods to country blues has any interest, then this is most definitely an album for you.
It is however highly melodic -- should that faltering description put anyone off -- and at its core the duo have been influenced by Portuguese fado, that emotional music played and sung in late-night clubs.
They recorded this in Lisbon which Gunn describes as "challenging and transformative and idyllic all at once" . . . and that might be a perfect description of the music spread across the seven pieces here.
Song for Charlie opens like a sonic landscape with Cooper's slide painting in broad strokes before bubbling electronics intrude and voices are distant and impenetrable. It is well out there in the region of Fred Frith and other prepared-guitar travelers (as is Saramago), but at other times this album posseses the magical power of John Martyn's playing at his most subdued.
And although Portuguese music is the influence, the spooky and droning Pony Blues seems to come at you from Mississippi in the Forties. The spare Enchanted Moura might have been lifted from the soundtrack to a very disturbing thriller, and I'll let you try to fathom Lampedusa 2013.
In fact, if you settle in with this album, some very interesting films will run inside your head.
Few albums take you on such an engrossing trip as this, but you feel safe in the hands of two masters.
You can purchase this album here, and it is worth checking out the other fascinating albums on the FRKWAYS website here.
MIKE COOPER
Considered one of the great iconoclastic guitarists of Britain, Cooper's work has bridged folk and blues and the avant-garde scene and so he is spoken of in the same context as Bert Jansch and Davy Graham as well as Derek Bailey and Sonny Sharrock.
It is said he was approached about joining the Stones around the time they formed, and it has been his later folk-rock and jazz-influenced music which has attracted a reconsideration.
His first three albums Trout Steel (1970), Places I Know ('71) and The Machine Gun with Mike Cooper ('72, with a band named for saxophonist Peter Brotzmann's free jazz album) have undergone reissues through the Paradise of Bachelor's label (Southbound in New Zealand).
Whether you hear the Incredible String Band or Pharoah Sanders in his work, Cooper remains a singular figure whose early catalogue is very much worth discovering.
Trevor Reekie of Radio New Zealand did an interview with Mike Cooper in 2010. You can hear it here.