Graham Reid | | 1 min read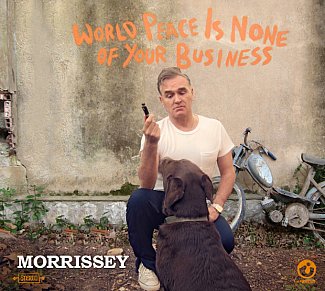 Although no longer considered the monarch of misery he once was, Morrissey doesn't stray too far from the musical parameters he created for himself on this, the 10th studio album under his own name. For that he leaves it over to his brittle band to add grit and texture behind his familiarly melodic vocal style. That's when he isn't setting that effortless singing style against strings or more subtle arrangements, and those songs form the strongest batch among the 12 here.
The lovely ballad I'm Not A Man incisively skewers machismo and images of men as only he can and holds attention for it's almost eight minutes; Earth is the Loneliest Planet rises above the oh-so-Mozza title and sentiment by being off-set against urgent Spanish guitar and rattling drums; and on The Bullfighter Dies while Morrissey delights in the bull's victory and throws in some weak wordplay ("ill in Seville") the accordion and romantic guitar save it from itself.
That Iberian exoticism also propels Kiss Me a Lot and the menacing Smiler With Knife.
And Istanbul with its stuttering guitar undercurrent, disconcerting strings and the father's narrative of loss is profoundly moving, largely due to Morrissey's uncanny ability to weave around a melody and shift emphasis while the sound of chaos erupts behind him.
But among this persuasive cache of songs however are some real makeweights: It's hard to take Neal Cassady Drops Dead seriously when it simply name-drops Cassady and poet Allen Ginsberg then devolves into lyrical inanities ("the little fella has got rubella") before giving up completely and going into "la de di . . ."
The melodically beguiling title track with its mild cynicism ("the police will stun you with their stun guns") and cliched observations sounds more aimed at 14-year olds than his post-Smiths peers.
That's an accusation you could also lay before Staircase at the University about an overworked student who, under pressure from her father, commits suicide.
Morrissey's literary and political allusions hardly warrant the deep analysis he might expect (especially since his recent memoir appearing under the Penguin Classics imprint) but here the best material, the arrangements and two final songs – the ballad Mountjoy about Dublin's notorious prison and the speak-sing Oboe Concerto – bring this one over the line for our embittered and often embattled hero.