Graham Reid | | <1 min read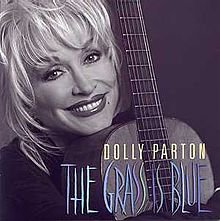 Time was when double-barrelled Dolly was on a major label and hammering home the hits with Kenny Rogers. These days, and for some little while, she's been on minor labels and not many people would argue that making a bluegrass album is the way back to chart domination.
But with a stellar cast of players - Jerry Douglas on dobro, Sam Bush on mandolin, Jim Mills on banjo and harmony vocalists which include Alison Krauss and Patty Loveless - this is Parton returning to her back porch and singing from the heart.
She reinvents Billy Joel's Travelin' Prayer as a bluegrass stomper, sounds right at home on the Louvin Brothers' Cash on the Barrelhead and Lester Flatt's Sleep With One Eye Open, overhauls her own Steady as the Rain within the style, and goes out with a moving acappella version of the quasi-gospel farewell I Am Ready. And the traditional ballad Silver Dagger is an instrumental tour de force, with Parton letting the band take off into dark, evocative territory.
This is the music Parton grew up with in Locust Ridge, Tennessee (one of her first singles was Muleskinner Blues and she used to play banjo) and she's seldom sounded so comfortable.
Fans from her Kenny'n'Dolly hit-spinning pop period might find this a bit raw and possibly too country for comfort. But for anyone with an open mind, the last Steve Earle album or a penchant for fiddle-led country, this one delivers.