Graham Reid | | 1 min read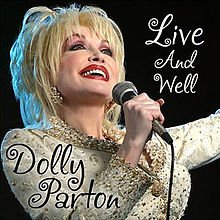 The dinner was going well until someone said they didn't like country music, and someone said they didn't mind it. Then we tried to define our terms.
Was Shania Twain country? Nope, she's a property investor said Dave.
Emmylou Harris was still country, Joe Ely and Tom Russell were sort of although we liked them because they were also Tex-Mex rockers.
Then things got difficult. Steve Earle (sometimes, sometimes rock), Lucinda Williams (hmmm, maybe sometimes) and Willie Nelson (definitely, even when he sings pop ballads). And whatever Dolly was, we liked her anyway.
Which seems as good a place to start on an artist some will call singer-songwriter, some will consider country.
Live And Well was recorded in her Dollyworld concert hall two years ago and favours songs from her three recent bluegrass albums - The Grass is Blue, Little Sparrow, Halos and Horns - which are among the best of her long career.
This double disc finds Dolly in typically celebratory mood (she rocks in with Orange Blossom Special/Train,Train) before taking her audience into some of the just plain pity-full sad songs in her current repertoire.
She throws in favourites (Coat of Many Colors, 9 to 5, Jolene), an a cappella medley (Islands in the Stream, Here You Come Again) and delivers affecting versions of Neil Young's After the Goldrush and Led Zeppelin's Stairway to Heaven. And she closes with a song she wrote which became a pretty big hit for someone else, I Will Always Love You.
Dolly is still a star, a significant songwriter, and her onstage wit is both self-mocking and amusingly honest. Fans might want to grab the DVD of this for the full be-wigged experience. The lump of coal that became a diamond.