Graham Reid | | 1 min read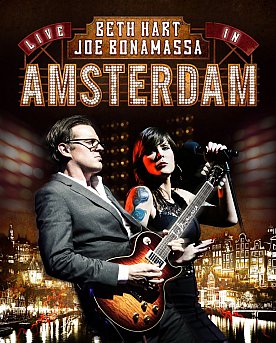 In a recent doco about Muddy Waters, American guitarist Joe Bonamassa was talking about the blues and said, "The British blues for me was more immediate and more exciting. It was louder, a Les Paul guitar in a Marshall amp, it was more rock".
While there's no doubt Bonamassa can play the blues, he is at heart a rock guy and that's why his longtime paring with singer Beth Hart -- she closer to Janis Joplin than Janis Ian -- has been so successful.
They like to rock out, sometimes in a bluesy way, and for this live double disc they also touch base with horn-driven material in the manner of the Stones (in the band is guitarist/backing singer Blondie Chaplin who tours with the Stones), some standards (a gutsy treatment of Etta James' Something's Got A Hold on Me, Strange Fruit with ethereal guitar, I'd Rather Go Blind), soul (See Saw by Don Covay and Steve Cropper) and swing (Them There Eyes).
It makes for a slightly distracting and scattershot set although one which is certainly enjoyable as they move from Tom Wait's woozy Chocolate Jesus and Freddie King's Someday After a While through Hart's original material (the theatrical piano ballad Baddest Blues is a highpoint which lowers the mood) and a couple by Melody Gardot (the turned-down Your Heart is as Black as the Night, If I Tell You I Love You) and a stomping Nutbush City Limits.
Many of these songs have been on their two previous albums together but here come with added kerthump.
This is at its musical best when Hart unleashes that considerable firepower alongside Bonamassa's searing guitar (Sinner's Prayer, Can't Let Go, Nutbush City Limits) but if this any indication of what Bonamassa will deliver when he plays in New Zealand soon -- solo opening set then with a band, Hart unfortunately not coming -- then it sounds like a must see, ear-plugs show.
Joe Bonamassa plays the Auckland Town Hall, Friday September 12