Graham Reid | | 1 min read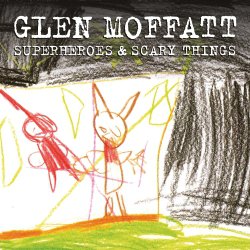 Further proof that we export real talent. A little over a decade ago country-rock singer-songwriter Glen Moffatt quit New Zealand to base himself in Queensland, leaving behind three fine albums and a nomination in the songwriter of the year category.
He immediately picked up good notices and awards in Queensland, but we haven't heard much from him in recent years.
This album however -- some of the songs dating back many years -- confirms what a strong singer he is, and a crafted writer in the smart end of snappy Nashville-styled country-rock.
With stellar support from the likes of Bill Chambers -- who co-wrote the borderland Mexico-influenced ballad When She Drinks, and plays on Point of No Return -- Moffatt explores memories of a more innocent time (Superman Lunch Box), loss (Jackie's Song), a party-girl wife (She's Not a Honky Tonk Woman with a nod to the Stones) and imagery of Australia (The Way The Rivers Are).
His confident baritone, the pedal steel and dobro, the brittle guitar twang, the assured backbeat from drummer Gordon Joll and crisp production make for a consistent collection of songs which stands the equal of similar sounds from out of the States.
Moffatt -- who wrote or co-wrote everything here -- has a way with a memorable chorus (Chameleon), lyrics which pin down some classic images ("I bought a long-term lease on a brand new heartache" delivered with power pop precision) and musical settings which sheet home guitar riffs and filagrees with crystalline precision, as clear as his enunciation.
His Turning Me Into is as fine a piece of insightful, bitter writing as you will hear in a long time.
And on Skin of My Teeth -- ever aware of his role as a barroom singer -- the man who wrote the excellent Somewhere in New Zealand Tonight (heard again on this recent compilation) considers the lowly status of the working musician playing to indifferent patrons and those who make the same old requests.
Glen Moffatt might just be one of the most literate songwriters we've had the (mis)fortune to export. Here's ample evidence.
Glen Moffatt answers our Famous Elsewhere Songwriter Questionnaire here.