Graham Reid | | 1 min read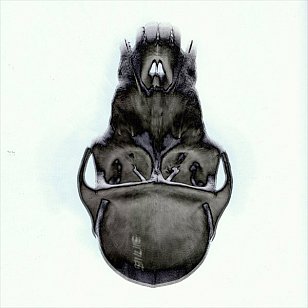 Expat Kiwi Dylan Bakker wrote to Elsewhere from his home-base in Berlin recently wondering if we'd like to get a copy of his debut CD.
We did a quick check of his wide and deep website which is chock full of artwork, prints, photography, a list of his numerous exhibitions and music projects and concluded, "Yes please".
The CD duly arrived with hand-written note (in fountain pen, this just gets better) and a few pieces of screenprinted artwork on card.
He says he is doing a concert of the album in Berlin on October 24 to launch it and hopes to come back to New Zealand, but after years away things are falling into place for him over there so . . .
Of the album he says he did it all, from recording the music to designing the cover (the art is by friends and it's a gatefold CD), and it was created in his bedroom. "The good thing about Berlin," he wrote, "is TIME".
He is a member of a collective of artists, performs solo and with Wide Scope Experimental, and makes his own videos, publishes an occasional magazine, sometimes does street art . . .
There is a brief and casual video interview with him here, from a couple of years back.
As to the album, it is sometimes grinding and static noise (dare we say, rather "German industrial") but mostly along the lines of subtle industrial ambient sound in line with the over-arching concept of the world going to hell under a mountain of rubbish, clutter and detritus.
His pal Ralph McClure writing here describes it perfectly as "the easy listening apocalpyse".
Built over guitar figures or searing washes of distorted sound, the eight short pieces are focused.
There is also an arc from the gentle opener Killdozer (which belies its name with artificial bird sound and an almost pastoral feel) through the menacing distortions and the uninterpretable spoken word passages which echo in 7Seven, to the restful Give and Take (gentle guitar figures again with sonic under-painting) and the bruisingly brittle and increasingly oppressive The Undoing (which puts me in mind of Jed Town's sometimes confrontational work along this axis).
The final eight minutes of TomTom are where that apocalypse of 21st century left-over crap starts to tumble down and bury you.
As musician, Bakker clearly thinks like a visual artist on this album, the pieces evoke striking images (see the clip below) and if this is more like an art project than a stand alone album it is actually the stronger for being that.
Can't imagine when he performs it there won't be visuals.
There certainly are in my head.
For more information on Dylan Bakker and his various projects including this album see his website. And there are many more music samples/examples here.