Graham Reid | | 1 min read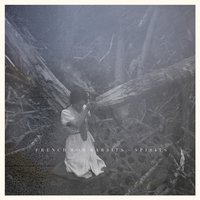 This dreamscape debut album opens with such an elegantly simple guitar and piano part that it's hard not to be quickly seduced, and when vocalist Brooke Singer wafts in there is a lovely weightlessness at work above the undercurrents of drums and cymbal splashes. It sounds tidal and elemental.
From their homebase at Waikuku Beach in New Zealand's South Island the duo of Singer and John Fitzgerald (Christchurch by way of Wellington) aren't so much shoegaze as folksy skygaze, and references to windswept beaches and breeze-blown melodies are not out of order.
Understatement and subtle connections with dreamy folkadelica are their forte and while Singer has a high and airy voice she eschews that little-girl style so prevalent among vocalists in this genre (even on the delightfully woozy Nursery Rhyme), and lyrically these are serious songs about adult relationships and life.
Alongside Singer's dreamy but distinctive voice the subtle dynamics of these song and the soft weave of electric guitar and spare percussion are beautifully empathetic. Take the vocals out and these songs would stand as lovely, almost ambient instrumentals.
The Other Side -- "they're all running to the beach to wash their bodies/minds clean" -- has an ethereal holiness about it, an almost hymnal quality in the stacked up vocals above the beautifully rounded guitar figures.
The final song Seafarer -- "you sleep tonight beneath the waves" -- almost sounds recorded under water as tides of sonic currents move gently about.
Although it would be easy to single out a few songs for attention -- the previously released Goat another contender -- but this, despite some songs having appeared on EP already, is such a coherent, delicately integrated and self-contained album it needs to be heard in its entirety.
Highly recommended.
French for Rabbits answer the Famous Elsewhere Questionnaire here.