Graham Reid | | <1 min read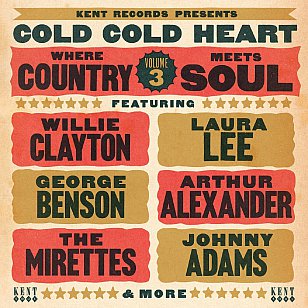 The crossover between country and soul has long been acknowledged but this excellent series brings classics and obscurities together just to gently push the point home further.
Elsewhere has hailed the previous two volumes and this one continues the thread, but to even greater effect.
Here are some extraordinary black soul versions of songs you might only have heard as whitebread and anodyne radio pop: the Temptations' treatment of Little Green Apples, the Mirettes' with Stand By Your Man, Johnny Adams' on Hank Williams' Cold Cold Heart and Ralph "Soul" Jackson with Hank's Jambalaya (with the Muscle Shoals Swampers) and many others will make you think again about their provenance.
Ona Watson funks up David Allen Coe's Take This Job And Shove It, and the great OC Smith brings home Long Black Limousine.
And there are other real heartachers here: Laura Lee on Another Man's Woman, Another Woman's Man brings real depth to the genre of cheatin' songs, then of course there's Bobby Bland (on Charlie Rich's Who Will the Next Fool Be?), Bettye Swann with the fragile Till I Get It Right . . .
Here are 24 songs with barely a dead note among them.
Even the godawful The Most Beautiful Girl in the World shapes up rather nicely as a string-soaked Vegas soul classic in the hands of the Isley Brothers.
As with all the previous volumes, this comes highly recommended.