Graham Reid | | 1 min read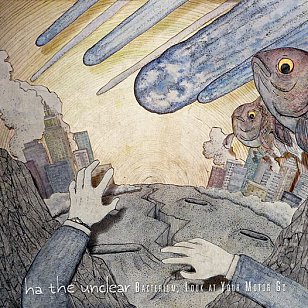 And now for something completely different . . .
Singer-songwriter Michael Cathro who fronts this oddly-named band is a real one-off.
His accent is unashamedly antipodean: He pronounces the Dunedin suburb "Core-sto-feen" as is the habit there, in Edinburgh it's the suburb I was born in and is "ki-store-fin".
And his vocal limitations have a real charm as he alludes to melodies while the band deliver pure pop backdrops of "ba-daa-dah" while he cracks with emotion.
His is a very skewed worldview (singing about a coffee table would be odd enough from Robyn Hitchcock/Soft Boys but singing from the viewpoint of the coffee table . . ?) and songs entitled Growing Mould, Once We Were School Kids Drunk on Youth and Friendship, and Girls Who Smoke Strange Things hint at the breadth of his vision.
He can be wistful (85 is sung from the perspective of an old woman -- Catholic? -- waiting for her husband to die and reflecting on the highs and lows of their life, shorn of sentiment) but also a kind of pragmatic cynic (Apostate, originally recorded by their previous band Brown).
What makes all this so special is not just the interesting lyrics but how these songs are couched in clever, slightly familiar backdrops of pop guitars, sometimes sweet pop harmony vocals as a counterpoint to the blunt language, and a real integrity in his delivery. And the Kiwi vernacular.
Infatuated is a genuinely lovely song, almost a mini-epic, about a gentle heart breaking. And more.
This is the kind of music that gives "bedroom" projects a very good name.
Make sure you hear it at the link below. Take your time with it, it's a grower.
Ha the Unclear's album is available to listen to and buy from here. They play November 2 at the Waitakere Festival in Auckland and at Meow, Wellington on November 8.