Graham Reid | | 4 min read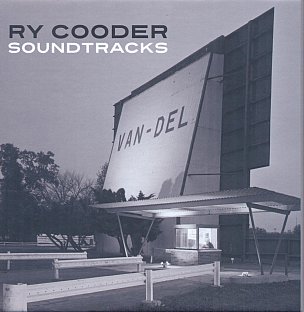 A couple of years ago when Ry Cooder was coming to New Zealand with the charming
Nick Lowe
,
Elsewhere did an interview with him
. It didn't go well.
Actually, that's not entirely true. It didn't go well until – after some cursory answers to what I thought were decent questions – I realised here was man who needed to be provoked.
If you look at that interview you can see when it happened.
I left my question about his soundtrack work until right at then end because I could anticipate his curt response.
He said snippily: "I don't do that anymore. I hate films, films make me sick now and if something makes me sick I always back off. They call you, you don't call them. [Director] Walter Hill used to call me and we were friends and we understood one another. But there aren't any Walter Hills anymore."
I'm given to understand – from some source I can't recall – that Cooder might be doing another. Or maybe not.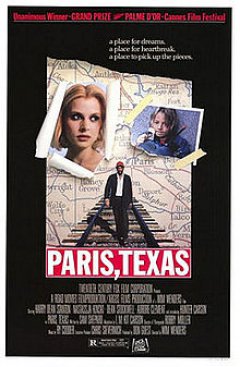 But this seven CD set reminds you of just how pivotal his music was on some soundtracks, and not just the exceptional Paris, Texas ('85) which – as anyone who has seen that ineffably sad Harry Dean Stanton/Natassja Kinski/Wim Wenders film about obsessive love – will attest.
It will be embedded in memory.
That is of course the most moving album in this seven disc set (a box set in replica sleeves) and the achingly sad Stanton spoken-word piece from the film with Cooder's sparse music on I Knew These People is still utterly compelling. You could conceivably weep when you hear it, even if you've never seen the film.
I'm not ashamed to say I did.
Of course by being one of the great soundtracks it inevitably overshadows the others here . . . but each has its own virtues. Although in retrospect his Long Riders – his first Hill commission in '80 – has been overtaken by Americana since its inception. And the spoken-word bits are nowhere near as affecting.
If you've never seen Louis Malle's Alamo Bay ('85, music with Los Lobos' David Hidalgo and Cesar Rosas, as well as a typically yelping John Hiatt) the soundtrack is quite the quiet treat from the seductively romantic and gentle acoustic passages into through to Hiatt's clatter'n'clang rock. Klan Meeting is one of those eerily abstract slide guitar pieces which – like so much of Paris, Texas – is just plain spooky. As is the skeletal, five minute Search and Destroy.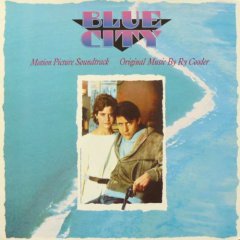 Blue City from '86 – produced by Hill, directed by Michelle Manning – is the least interesting here just because it is so conservative in the comparison.
But it is a (mostly) fine collection of songs by Cooder and Jim Dickinson, and Johnny Cash's Don't Take Your Guns to Town played by a terrific band which include Cooder's go-to drummer Jim Keltner, bassist Nathan East, keyboard players Dickinson and Benmont Tench . . .
If you are looking for more of those atmospherics from Cooder don't come looking here, but it is an album if Hiatt's Bring The Family, Cooder's Borderline and the like appeal.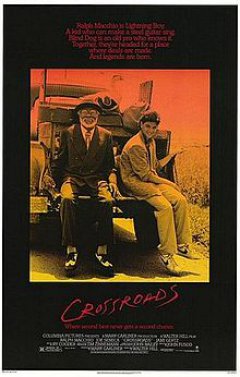 Crossroads was a more problematic project. Hill's contemporary take on the Robert Johnson story -- with The Karate Kid's Ralph Maccio as the aspiring guitar slinger -- meant an update on Johnson's title piece, working with blues artists Fred Frost, Wille Green Jr and Sonny Terry in addition to his favoured crew of Keltner, Dickinson, East and others.
You'd think this would be Cooder's metier but although he and the players acquit themselves well -- especially on their unearthly take on JB Lenoir's Down in Mississippi among others -- it rarely catches fire in the way you think it could have done. It feels restrained . . . perhaps Cooder was mindful of being in service of a film which was going to have considerable youth appeal.
See You In Hell Blind Boy is a slight piece with Van Dyke Parks on piano and synth (it was the Eighties!) by Alan Pasqua. It doesn't live up to it's title and Nitty Gritty Mississippi sounds like a minor league Creedence slice of swamp rock, but with little menace or bite.
Johnny Handsome -- a better Hill film than its title suggests, with Mickey Rourke, Ellen Barkin and Elizabeth McGovern -- suffers some Eighties-itis production but is more of his ambient, mood setting and unsettling music, this time with Wrecking Crew saxophonist Steve Douglas, a horn section arranged by Van Dyke Parks and Cooder handling slide, fiddle, accordion and much else.
From two-step rhumba to ghostly sonics, this is one of the real discoveries in this collection.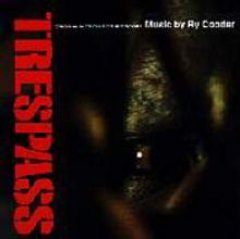 As is his sountrack to Hill's Trespass ('93). Consisting of 14 mostly shortish pieces -- just two tip over the four mint mark -- here was Cooder upping his game again by working with ambient and sometimes avant-trumpeter Jon Hassell.
The music is often discordant, quite unnerving, pushes into areas closer to Downtown New York jazz experiments and plays with electronic treatments of the instruments.
It's a long way from Paris, Texas . . .
Cooder gave over a good part of his life to soundtracks for over a decade and half starting in '80 and these seven are only some of them. There were seven for Hill alone (only five appear here) and conspicious by its absence is Geronimo which really pushed him.
But here are at least three classics -- Paris Texas, Johnny Handsome and Trespass -- plus a couple of others which are more than merely diverting.
Given Ry Cooder was signed to the same company through these years let's hope there is a subsequent volume. His work never fails to turn your head, and in this case your eyes back to a couple of great movies.
There are a number of other Ry Cooder albums and collections reviewed at Elsewhere starting here.