Graham Reid | | <1 min read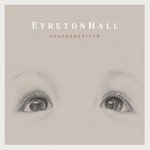 Life, the need to make a living and a trip to Australia meant this exceptionally classy folk-rock and catchy-pop album by Eyreton Hall -- the antipodean duo of Andrew Keegan and Toni Randle slipped right by us when it was released a fornight ago.
It is certainly not too late to discover this classy confection which was mostly written near Christchurch and was recorded Auckland by Sydney-born Keegan and Kiwi-born Randle (who met while studying jazz at the Sydney Conservatorium) with excellent band assistance.
Randle has a gorgeous ache in her voice but also an assurance that is mature, and the songs step confidently between alt.country, Anglofolk (Just in Case Allelujah) and a kind of haunting turned-down rock of the kind Fleetwood Mac in their classic period might have made if they were attuned to Sixties Serge Gainsbourg.
There are also melancholy piano ballads (the neatly orchestrated The Marriage, the viola-coloured Crippling), hints of contemporary but adult pop (Ladder) and plkenty of late night think-pieces (Salt and Sixplence).
David and Goliath is a standout: "David weep for Goliath for he was good, brave and strong . . . he is safe, he is where he belongs."
This really is a surprise and surpisingly good, and definitely worth seeking out of those references mean anything.
Available through iTunes, and Amplifier here.