Graham Reid | | 1 min read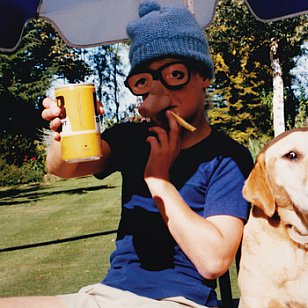 Ed Castelow aka Dictaphone Blues is, for Elsewhere's money, one of the most talented, smartest and best pop-rock songwriter/singers at work in this country right now.
He's also very funny as he plunders doo-wop (here on the absurd intro to Lance's Tape), writes very witty lyrics and some highly moving ones, latches them to memorable tunes (Her Heart Breaks Like a Wave deserves to be pouring out of windows and cars over summer, and check the short film clip) and he seems to belong to no particular school.
In other words he isn't indie, mainstream, pop or rock, but is sort of all of them.
The wonder is that he's not huge . . . although he has always been big around our way and this third full length album might just be his snappiest and smartest yet.
Recorded over a year at The Lab in Auckland and independently released (you'll find it here at bandcamp), Mufti Day sometimes sounds like a lost pop classic from the Sixties (Cryptic Lipstick, lyrics aside, is somewhere between Herman's Hermits at their best and the augmented pop of the Left Banke) and at other times it has a psychedelic pop whiff about it.
365 (with Emily Edrosa) is big bristling guitar-driven power pop, Prepaid Fare is located somewhere in the glam-rock era but is stadium-sized ("as grim as it sounds, I like you") and Wink and Watch is one of those songs Lloyd Cole would be proud to claim. Before it twists into another shape.
Countless Apologies wears its heart on its sleeve over a gentle jangle then drifts into breezy psychedelia. And The Great Girlfriend Ignorer at the end is a killer where music, wit and sonics implode to terrific effect..
But here's the thing -- aside from the short acoustic instrumental title track and short tripped-out Fizzy Water -- it is all pop in the sense that it keeps the songs tight and focused, there are verses and choruses, and -- like so many great Sixties songs -- each song has a kind of sonic signature which grabs you.
And best of all, throughout there is an uplifting quality. No self-lacerating downers.
Here is your soundtrack to summer. If summer ever comes.
And if it doesn't this will cheer you up.
There are other reviews of Dictaphone Blues at Elsewhere starting here.