Graham Reid | | 1 min read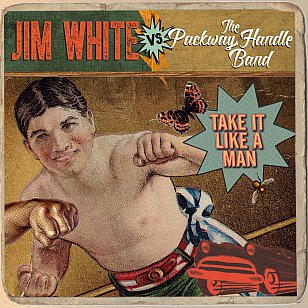 If he weren't so popular in various spheres (albums which have been hailed at Elsewhere, his film Searching For the Wrong-Eyed Jesus, art exhibitions etc) and is often surrounded by high-profile pals, you'd argue Jim White was an outsider artist.
But there he is, quite solidly within the frame of Southern music and alt.country and, if not quite a household name, enjoys a degree of popularity for his sometimes skewed but insightful views of life, faith and Southern culture (sometimes on the skids).
This is yet another unusual but rewarding listening experience as he teams up with a band which can do bluegrass, rockin' roots music and more.
White (not his real name) decided they were so much fun that rather than produce an album at their request, he'd simply join the band and present them with mostly bluegrass-framed songs from his unreleased vaults ("and how can I undermine this [album]?") to go alongside some of theirs.
There is certainly fun to be had here, even on the woozy, fiddle-and-banjo-driven singalong Not A Song by Packway's mandolin player/leader Michael Paynter ("this is not a song, this is a cry for help/a suicide mission . . .").
There is hilariously overplayed country-kitsch here as on Gravity Won't Fail: "When I had my heart pinned to my sleeve, it wouldn't stay up there and then I watched you leave. You made damned sure the whole shebang would fall down to the ground, I learned gravity won't fail but you would let me down . . . I think you're the only one I can't count on this town . . ."
Wordmule Revisited employs the sound of actual mules behind the hoe-down stompin' bluegrass; the title of the throwaway Paranormal Girlfriend almost tells you what you need to know ("I was thinkin' 'bout you when the roof caved in and I gotta funny feelin' you wuz thinkin' 'bout me too"); but the superb Sorrow's Shine written and sung by the band -- which explores the more shadowy and poetic aspects of relationships -- sounds ancient. You'd be forgiven for thinking acoustic downhome REM.
There's furious bluegrass on Blood on the Fiddle, Blood on the Bow . . . as you might expect.
There are some songs among the 11 which feel like filler or unworthy vessels -- even on an album just 38 minutes long -- but they fly by so quick you're onto an unpolished nugget or amusement soon enough.
Not the place to start a discovery of the more "serious" side of White, but if you've followed him this far you'll enjoy this . . . and if you sampled some of this judiciously (the bar-cum-churchcrawl of Jim 3:16 is fun) you'd be signing up to smile.
But also expect a little seriousness.