Graham Reid | | 1 min read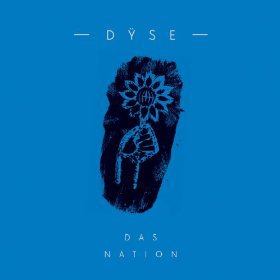 Don't believe the publicity material, let alone the hype. Right?
The advance PR for this duo of guitar/drums/vocalists -- who play in New Zealand soon, see dates below -- bills them as a "German experimental noise-rock" band.
But frankly, while they may be German and noisy, they do rather fall well short of "experimental".
There's nothing "experimental" on this latest album which open ears -- those which have had even passing acquaintance with noisecore or stentorian rock-krieg -- won't have heard before.
I suspect the E-word is PR code to get in the "art crowd" or for those of the "Are you hard enough?" persuasion . . . Or maybe even, "Do you want to be in a room with others whose future involves tinnitus so loud it will deafen others?"
This German duo of Jarii Van Gohl and Andrej Dietrich are nowhere near as outrageous as their PR people -- or perhaps they? -- think they are.
They are just are noisy duo . . . and by the midpoint of this 10-song, 45-minute disc they conspiciously run out of the musical ideas which have got them through the first half (some pretty damn good).
But, and it is a rather large but, theirs can be a highly disciplined attack at times like a bellicose Germanic version of a two-man Anthrax-cum-Discipline-era King Crimson.
So there's quite a lot to get excited, and deafened, by.
They are shouty boys deploying instinctively guttural German, a widescreen studio attack and -- Gott forgive them -- on Hans here they are unrepentantly 21st century prog . . . which rather undermines the rag about them being "experimental".
On the evidence here -- distilling these 10 tracks down to four really great ones -- you'd want to see them (earplugs in) but you won't be going home shouting at your equally deafened friends how experimental they were.
And you may conclude what you should have known already: Just because they're German, doesn't make them experimental.
But they were pretty damn good.
DYSE NZ TOUR
Fri 30th January – Yot Club – Raglan Double headline show with Kerretta + support
Sat 31st January – Whammy – Auckland Double headline show with Kerretta + Mothra
Sat 7th February OFF THE RADAR Festival - Te Arai (near Mangawhai)
Tues 10th February - The Cabana – Napier With special guests
Thurs 12th February – The Great Job - Palmerston North With special guests Pussywhippers
Fri 13th February - San Fran – Wellington Spook The Horses Release Show with special guests Gatherer
Sat 14th February - Space Monster – Whanganui With special guests Pussywhippers