Graham Reid | | 1 min read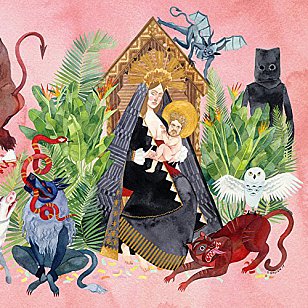 Before we even address the music on this new album by Josh Tillman (aka FJMisty) who was previously in Fleet Foxes, let's just tip the hat to the value-added packaging here.
The gatefold sleeve comes with a pop-up centrefold, there's a large fold-out poster with lyrics on one side, and a booklet with "Exercises for Listening" which reads a bit like a 21st century computer-literate update of Yoko Ono's instructions in her Grapefruit book: "Watch everything change. Watch everything change again" and "Buy a piece of consumer technology which will undoubtedly be obsolete in 50 years".
Needless to say, Misty/Tillman also writes interesting lyrics which can be slightly cynical (Bored in the USA which, despite the punk allusions of its title is actually a piano ballad), obliquely self-referential (When You're Smiling and Astride Me) and socio-political (the folksy Holy Shit).
He's the kind of guy who can write a gentle pop song which can adeptly skewer a woman who misuses the word "literally" on The Night Josh Tillman Came To Our Apt ("and the malaprops make me wanna fucking scream, I wonder if she even knows what that word means"). And also offer up some smart images: "She blackens pages like a Russian Romantic and gets down more often than a blow-up doll".
So he's smart cookie but here wraps his lyrics in often delightfully airy melodies and sometimes you could imagine him as the lovechild of Brian Wilson and Harry Nilsson (the air-filled Nothing Good Evert Happens at the Thirsty Crow), or the Shoes in the studio with George Martin persuading them into folk-ballad mode while writing out the orchestrations.
There is a lot of love here (he has a new wife), but it is rarely simple and mostly enjoyed with wry twists. Although the emotionally direct I Went to the Store One Day right at the end is an elementally simple, string-coloured story of their first encounter.
FJMisty keeps well clear of sentimentality and yet somehow that comes through, but with subtlety.
A repeat-play album for sure.