Graham Reid | | <1 min read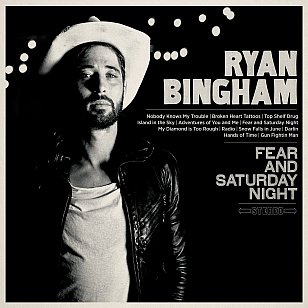 This 33-year old Americana/alt.country singer who played the Tuning Fork last year with his new band has a road-hardened, Bourbon'n'catarrh voice which belies his years. As some wag noted, he sounds more like Steve Earle's father.
After a bender, I'd add.
But, as with Earle, sometimes that raw edge is less expressive than it could be.
Fortunately, if we may say this, Bingham has seen troubles and has a poetic spirit to convey the hurts and losses (Nobody Knows About My Troubles where he defaults to a very standard country style), the darkness he runs from and the safe places found (Radio, and the winning, jangle-lite Broken Heart Tattoos) and the dangers of just a little taste, whether it be drugs, booze or love (the latter "running through my veins" on Top Shelf Drug).
When he tones down the rage and fears – as on the moving ballad Snow Falls in June and the clarity of the understated Darlin' – he sensitively connects head with heart.
Unless you like the sound of tyres on gravel this might be a tough call.
But Bingham remains a country-rock poet with the voice of barroom bawler.
For an interview with Ryan Bingham go here. For other reviews go here.