Graham Reid | | 3 min read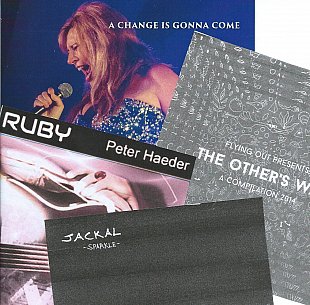 Facing down an avalanche of releases, requests for coverage, the occasional demand that we be interested in their new album (sometimes with that absurd comment "but don't write about it if you don't like it") and so on, Elsewhere will every now and again do a quick sweep like this, in the same way it does IN BRIEF about international releases.
Comments will be brief.
Various Artists; Flying Out Presents The Other's Way (flyingout): Say what you like about the sound quality of vinyl -- and the thousands of records I've got suggest I rather like it -- you can't beat digital downloads when they are free. As is this 30-song cross-genre compilation of artists who appeared at Flying Out's monthly live sessions at Auckland's Wine Cellar in 2014. So here's a chance to catch up on some frequently exciting young talent, and some more familiar names such as Bunnies on Ponies, Proton Beast, Fazerdaze and Emily Edrosa. Nothing outstays its welcome and most you would want to hear more from. So how do you get a free download? Simple, just sign up to Flying Out's excellent newsletter (where you are also alerted to Flying Nun reissues (on disc and vinyl), imports and such like. It's a must-read newsletter anyway and things like this are the icing on the cake. You can sign up for free here. We recommend you do, and not just to get this firecracker release.
Peter Haeder; Ruby (peterhaeder.com): Auckland guitarist Peter Haeder (aka phaeder) has been mentioned at Elsewhere a couple of times previously for his diverse avant-garde, techno-rock and Buddhist inspired chant work. This time out he revisits an area of his earlier catalogue but in greater depth, that of flamenco and Spanish-inspired electric and acoustic work. Here over 10 pieces he acknowledges discreetly the tradition (and its offshoots like Al Di Meola), but as always things are never exactly straightforward and there's a hint of reggae (the tail end of Woman With Pipe), John McLaughlin's explorations of the early Eighties, the elegant and brief Neues Barrock refers to New Baroque . . . A lot of sometimes emotionally intense, sometimes meditative listening. For more on Peter Haeder and his releases including this one see his website here.
Caii-Michelle; A Change is Gonna Come (caiimichelle.co.nz): This mainstream, Wellington-based singer (whose chosen stage name is awkward to decipher visually, it's as in Kaye-Michelle) came to national attention recently when the great US soul, pop and r'n'b composer/arranger/producer Dr Benjamin Wright arranged her version of Sam Cooke's title track and -- after finishing work on Justin Timberlake's new album -- came to New Zealand to help promote her and launch this album. He was interviewed on Kim Hill and Caii-Michelle's backstory -- hand-picked out of Tolaga Bay as a 17-year old by Prince Tui Teka to touring with the likes of Gladys Knight in Australia and time in the States, singing a duet in Mandarin with a Chinese star -- is the subject of a number of profiles in magazines like the NZ Woman's Weekly. She possesses a fine, expressive soulful voice on astutely chosen and popular covers (Have You Ever Really Loved A Woman, Bridge Over Troubled Waters, United We Stand, the slightly jerky segue between E I Po/I Believe I Can Fly, the latter partly in te reo). She courageously undertakes Lennon's Help! as big slow ballad (the lyrics justify it although it gets soulfully overwrought and closes with a searing stadium-directed guitar part) and the title track gets a spoken word intro about her career which is unnecessary. The closer -- her sole original -- is a heart-tugger about being respectful of, and kind to, God's other creatures. Bound to be popular with discerning MOR/mainstream audiences.
Jackal; Sparkle (bandcamp): I confess to being a little confused by this, as much as I was by their 2012 album Only Everything (reviewed here) which seemed scattershot and drawing from many influences, none predominant. If you can do that and make something your own, then fine. But Jackal seemed then, and now although a little bit less so, to be taking pieces and still in the stage of trying to determine their own sound. Again this has nods to myriad styles (sorta synth-pop without the synths, New Wave, middleweight prog); there are the lovely and understated (mostly) instrumental Felicette's Satellite, You've Been Waiting (George Harrison slide) and gentle Undercover which sit at odds with their surroundings -- which include the radio static noise and sounds on the title track, the clumsy avant-kerthunk of The Funny Side (it's not really), the dreamy I Cannot Go . . . Mr Bungle fans might be at home here, maybe? To their credit they've made it available free through bandcamp here so check it out yourself at no cost. It will also be available on vinyl.